Steven Tiley learning from past Open disappointments
Last updated on .From the section Golf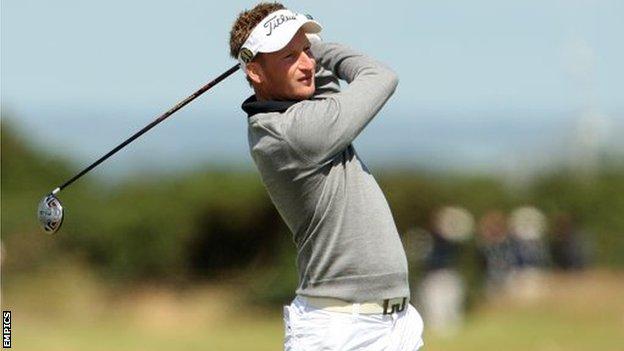 Herne Bay golfer Steven Tiley believes removing distractions will be key to success at the 2012 Open Championship.
The 29-year-old will compete in his third major when he competes at Royal Lytham & St Annes next week.
"With those big events, there's a premium on taking it easy during the week," he told BBC Radio Kent.
"You have to take everything in, relax and get your mind where you need it to be. It takes so much out of you mentally and physically."
In 2010, Tiley was lying in 3rd place entering the weekend at St. Andrews before a capitulation on the back nine of his second round saw him slide down the leaderboard.
Six years earlier as an amateur, he missed the cut at Royal Troon.
Now under the tutelage of Gary Bason and David Llewellyn, Tiley feels he is prepared to tackle the demands of one of the sport's toughest tests.
"I was an amateur, I had a lot of friends come up and I spent a lot of time with them," he explained.
"The second one, I didn't do that and it worked well. I was just a bit unfortunate with the draw.
"In order to play well I need to have some time relaxing and spending some time with my coach."
The primary drawback of qualifying for the Open is that Tiley will lose ground on rivals on the European Challenge Tour, who continue in Leece at the same time.
The Royal Cinque Ports GC professional knows he must maximise results in his remaining events in order to earn a tour card next year, starting with a strong showing in Switzerland on Thursday.
"I'm 61st in the rankings," he said. "I've got to pull my finger out and try and get into the top 20.
"I'm giving those guys another chance to get some more money ahead of me so this week is very important.
"It will be relaxed because I'm looking forward to the Open. You don't know when the next one you'll be playing in."