Open 2012: Sam Walker fit to take on Royal Lytham challenge
By Ged Scott
BBC Midlands Sport
Last updated on .From the section Golf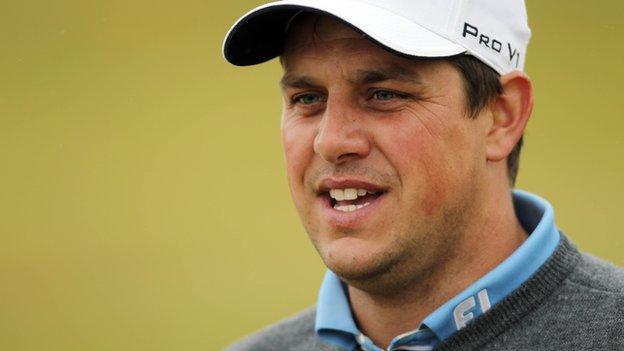 Sam Walker has not forgotten the only previous time he qualified for one of golf's four majors.
The Birmingham golfer earned his place at the 2007 US Open at Oakmont, only to disappear with rounds of 78 and 89.
But, having undergone a major life-changing fitness regime, there is a new inner strength about Walker as he lines up for next week's Open Championship at Royal Lytham & St Annes.
"I'm buzzing. I can't wait to get out there," he told BBC Midlands Today.
"When I travel up on Sunday, then I'll start feeling the butterflies.
"But I really do feel good about myself."
It is 18 years since Walker first started attempting to qualify for the Open as a 19-year-old amateur. And he has failed every time since.
So just what brought about the transformation in his game that saw him ease through European Final Qualifying at Sunningdale in June just a day after enjoying only his third professional victory?
The answer is a seriously testing fitness programme that the lifelong Birmingham City fan freely admits has transformed him not only as as a golfer, but as a human being.
"It was the main thing I needed to get right to compete in a major," said Walker.
"I was a bit slow doing so in my early career but I've worked at it over the last three years and it has changed my life.
"I was out of breath after 36 holes. I was very lazy and it had to change."
The transformation started for Walker at the Wales Open at Celtic Manor, when he had to pull out with a back injury, exacerbated by his poor condition.
"I woke up one morning and could not get myself out of bed as I'd pulled my back," he said.
"The physio told me I'd be out for nine weeks as I wasn't physically strong enough to support my back."
Ever since, Walker has truly put his back into turning a once promising amateur career around.
But that first meant allying himself to a personal trainer, Darren Joseph, who also works with Walker's cousin, fellow professional golfer Tom Whitehouse.
And, when he is not away touring the globe, alternating between the Challenge Tour and minor European Tour events, that means three gruelling sessions a week at the Alexander Stadium's state-of-the-art High Performance Centre.
"I put in two hours of hard graft every Monday, Wednesday and Friday," he reveals. "And now it's slowly paying off."
Walker, although appreciative of the fact that he is rated a 500/1 outsider in Lancashire next week, is at least familiar with the course from his amateur days playing in the annual Lytham Trophy.
And he is certainly a relaxed enough individual these days off the course to at least enjoy the limelight.
At a golf day only last week at The Belfry, with whom he is now affiliated, Walker had the chance to meet one of the star amateurs in the field, Sir Alex Ferguson.
"The first thing he said to me was 'I hear you've just qualified for the Open'. That's the mark of the man," said walker.
"I'd heard that about him before, the attention to detail he shows towards the people he meets. It immediately put me at my ease."
Sadly for Walker, the chance to meet the one sporting great he'd love to have met, the late Seve Ballesteros, the three-times Open champion, is denied to him.
But he can at least claim to have been there, as a 16-month-old toddler, in the company of his golf-mad father, to see the legendary Spaniard win his first Open Championship (one of Seve's two Lytham victories) at the famous old Lancashire links back in 1979.
"Obviously, I can't remember it," said Walker. "But my dad tells me I was there so that's good enough for me.
"It's just a shame the great man isn't still around to be there next week. I'd have loved to have met him. And I'd sure love to play like him too."