The Open 2012: Paul Broadhurst happy at Lytham return
By Ged Scott
BBC Sport at Royal Lytham & St Annes
Last updated on .From the section Golf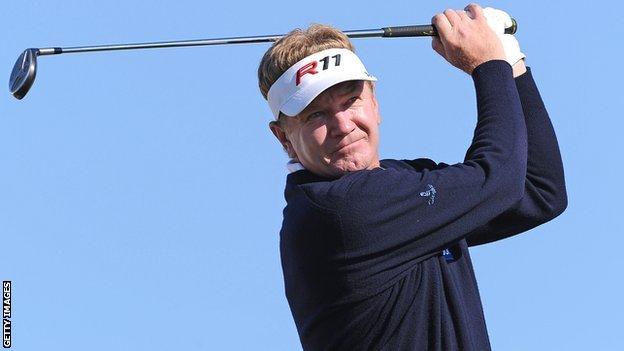 Paul Broadhurst is the first to admit that he thought he had played in his last Open at Turnberry in 2009.
But the Warwickshire golfer showed there is plenty of golfing life left in this 46-year-old by qualifying for Royal Lytham & St Annes.
"I thought Turnberry might be my last," said Broadhurst, who has 15-year-old son Sam caddying for him at his 15th Open.
"But I had my first Open here at Lytham in 1988, when I won the Silver Medal and played with Jack Nicklaus on the last day and, if this is my last, then I've gone full circle."
Not that any serious golf enthusiast would take bets on this being the man from Atherstone's last Open appearance.
Just a month away from his 47th birthday, and galvanised by the success enjoyed by the likes of Carl Mason and last week's US Seniors Open winner Roger Chapman, Broadhurst is already eyeing up the Seniors Tour.
"It's only three years away for me now," he said. "I'm just trying to keep playing as much as I can and wait for a crack at the Seniors in three years. And there's the likes of Barry Lane here this week to prove that age is no limit. He's 52 now."
At the other end of the age scale, while Broadhurst can feel comforted that there are nine players older than him at Lytham this week, he certainly has the youngest caddie.
Sam, the middle of his three sons (he has 18-year-old twins, Alex and Sophie, as well an eight-year-old, Aaron), is already a six-handicapper who knows his way round a golf course and is taller than his dad. But Broadhurst senior will not be pushing junior, who has been given special permission to take the week off school, down the same career path.
"He's got potential," said the former Ryder Cup player. "But I can't force him. It's got to be up to him. I'm just there to help and advise. I'm not one of those parents that push."
In any case, far from worrying about Sam's long-term future as a golfer, this week Broadhurst is more concerned with his own short-term ambitions around a course he loves, which has brought happy memories back from the past.
Broadhurst's place in Open history is perhaps best known for his nine-under 63 on the Saturday at St Andrews in 1990 - a round yet to be bettered in any major.
But, for the man himself, his favourite memory came two years earlier - at his first Open, when, in the space of one memorable Monday afternoon, he played with Nicklaus and Paul Azinger, sat in the stand to watch Seve Ballesteros win what proved to be his final major, then descended to the course to pick up his much-coveted Silver Medal for finishing the week's top amateur.
"That 63 at St Andrews still stands in the record books," said Broadhurst. "But eventually it will be beaten and forgotten about, although not by me.
"But my best Open memory will always be playing with Jack Nicklaus that last day at Lytham.
"I'd won the Lytham Trophy here back in the May. But I only got in at a play-off at Lytham Green Drive. Then we had that storm on the Saturday, when they abandoned play for the day, meaning we were going to have to come back on the Monday. I remember Ken Green playing the first eight holes in four under, only to have his scored wiped out. He was livid.
"But what a day on the Monday. I got drawn with Nicklaus and Azinger, then I sat in the stand at the last to watch Seve finish before being invited down there to join him on the podium.
"I actually shot 76 and, in company like that, all I remember concentrating on was making sure I didn't shoot a cricket score.
"Jack was going well, shot three under and didn't say much. And I actually spoke more to Paul Azinger, who I was to play at the Ryder Cup in 1991. I reminded him about the year before at Muirfield when he was three shots clear on the Saturday. I'd gone out to William Hill to put a bet on, only for Nick Faldo to come through and win on the final day. But he was great about it.
"I told him, 'You cost me a few quid there'. And he just smiled and said, 'You think it didn't cost me even more!'"
As for his own chances this year, after shooting a second round 67 at St Anne's Old Links to secure his place, Broadhurst feels good.
"I played OK tee to green," he said. "But I putted fantastic and that doesn't happen very often nowadays.
"I've made 10 out of 14 cuts at the Open and I'm always happy on a links course, except when it rains and it seems to get into my back and bones."
And, if things do not go well, could he not always blame his caddie?
"No," said Broadhurst. "I'll be doing the yardages.
"Not that it's any consolation as I'm just as likely to mess up. I have a tendency to turn an extra page in the yardage book and, all of a sudden, I'm on the wrong hole!"