Open Championship 2012: 'low key' Rory McIlroy stays upbeat
By Rob Hodgetts
BBC Sport at Royal Lytham & St Annes
Last updated on .From the section Golf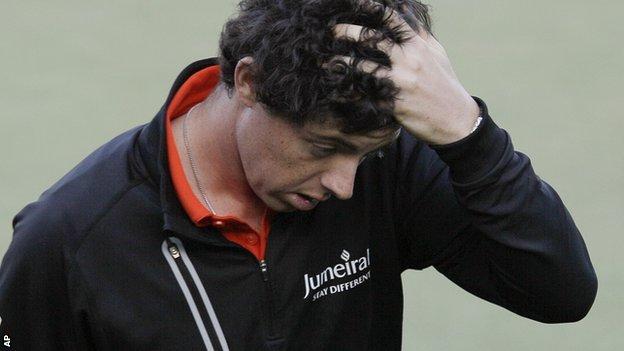 Rory McIlroy blamed frustration for last year's controversial comments about the Open and says he is ready to knuckle down to the challenge.
McIlroy finished tied 25th at Royal St George's after a record-breaking US Open win and said he was not suited to the inclement weather conditions.
"Those comments were just pure frustration," said the 23-year-old.
"I just didn't play well enough to get into contention and didn't handle the conditions as best as I could have."
McIlroy bemoaned tournaments where the weather is such a significant factor and suggested he would not adapt his game for one week a year.
"It's not my sort of golf," he said at the time. "I'd rather play when it's 80 degrees and sunny and not much wind."
But the world number two says he plans to approach this week's Open at Royal Lytham & St Annes in a far more positive manner.
"If it's like that again this week, you're just going to have to knuckle down and focus and keep fighting and stay tough and try and shoot a score in bad conditions," he said.
McIlroy admits the hype going into last year's Open was another reason for his poor performance and says his build-up has been far more low key this time around.
"It's been great, it's been lovely just going about doing my business without the madness of last year," he said. "I've tried to keep it as low key as possible and I feel like I've done that pretty well."
McIlroy took over from Luke Donald as world number one in March, but after swapping the top spot several times, he is back in second place as a result of four missed cuts in his last six events, including his US Open defence last month.
"Everyone has bad spells and I had a couple of bad weeks where I didn't play so well," said McIlroy.
"But it's just a little blip in the radar. I feel like I'm hitting the ball great. I think it's the best I've swung the club all year. I've done a lot of work on that.
"As I said, it's keeping the ball in play, keeping it out of the bunkers and out of the rough. Not only if I can do that, but if anyone can do that in this field, they've got a great chance."
McIlroy, who came 10th in the Irish Open amid poor weather at Portrush recently, also rues his decision to take three weeks off before the Open last year.
To help hone his competitive instincts at Lytham he has been using a tip he got from Jack Nicklaus, of playing one ball in practice to try to post a score.
"You're seeing shots and focusing on targets," he said. "On Friday I shot four under on the back nine which was good. On Monday my target was to shoot one under for the last four holes and I did that so I won a coffee off JP [his caddie]. Today didn't go so well, one over for the last four.
"But you're going to have to be very smart off the tees and just sort of plot your way around through all these fairway bunkers. The whole key this week will be just trying to drive it on the fairway."