Lee Westwood says he can win the Open at Royal Lytham
By Rob Hodgetts
BBC Sport at Royal Lytham
Last updated on .From the section Golf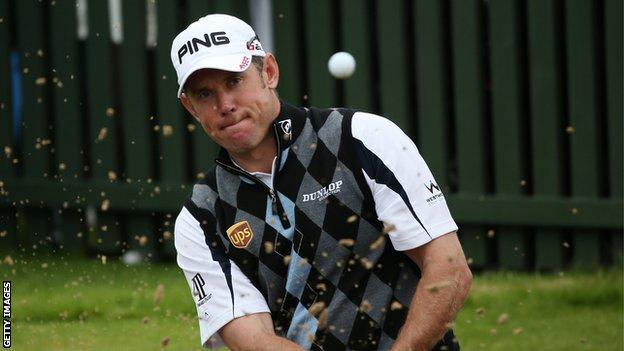 Lee Westwood believes he has the all-round ability to win the Open despite continued criticism of his short game.
The 39-year-old has never won a major but his recent consistency in golf's biggest events makes him one of the favourites at Royal Lytham & St Annes.
"I think my game suits most places," said the world number three. "That's why I contend most weeks in major championships recently.
"They're the ultimate test, and every aspect of your game has to be strong."
The Englishman has had nine top-five major finishes, including seven top threes in his last 16 appearances. He has also been second and third in two of the last three Opens.
But despite being known as one of the world's best tee-to-green players, Westwood still had to answer questions on his short game in his pre-Open news conference at Lytham.
"People have said that the previous winners have all got a great short game and apparently I haven't got much of a short game," he said.
"I don't think you can get to number one in the world without much of a short game.
"If you're at the top of the world rankings people are going to compare different aspects of your game to other people in the top of the world rankings.
"Those people up there have got strengths and they've got weaknesses.
"Luke (Donald's) strengths are from 80 yards in. My strengths are tee-to-green. You can't be the best in the world at everything, otherwise you'd be miles in front."
Westwood said he would play to his strengths by using his driver off the tee where possible this week, but insists his strategy around the heavily bunkered Lytham layout will be cautious.
"I think because they are such a tough test, it's hard to press in major championships," he said. "You sort of have to edge your way in there and play sort of conservatively and get in position for the weekend, and Sunday afternoon on the back nine see where you are and then judge whether you should have a go for it or not.
"I know my game is good enough to win when I play well enough. That's what I try to do. After that it's out of your hands."
Westwood was in contention at last month's US Open before his challenge was derailed when he lost a ball up a tree early in the final round. He ended up finishing tied for 10th place.
"You make your own luck a lot of times but that was an unfortunate time for that to happen," he said.
"But that shouldn't be a problem this week. If you hit it down the middle there are generally no trees there, so that's my plan."
Ireland's Padraig Harrington, the 2007 and 2008 Open champion, is experiencing a renaissance after several fallow years and is another fancied to do well this week.
The 40-year-old's last major title came when he won the 2008 US PGA but he finished eighth at the Masters and tied for fourth in the US Open this year.
"I've been putting better, that's essentially it," said Harrington, who claims his problem had been "overhitting" putts.
"I used to have a 15-foot putting stroke for a four-foot putt and I didn't realise that."
He also revealed he has been experimenting by taking a spirit level on to the putting surfaces in practice at Lytham.
"I've been picking a number of pin positions on each green and took a spirit level out and measured the straight putts," he said.
"I was actually more practising my reading of the greens than expecting that I can pick out where the pins are exactly going to be. But if I get one or two pin positions right as well it will be worthwhile."