The Open 2012: Warren Bennett comeback 'just the start'
By Ged Scott
BBC Sport at Royal Lytham & St Annes
Last updated on .From the section Golf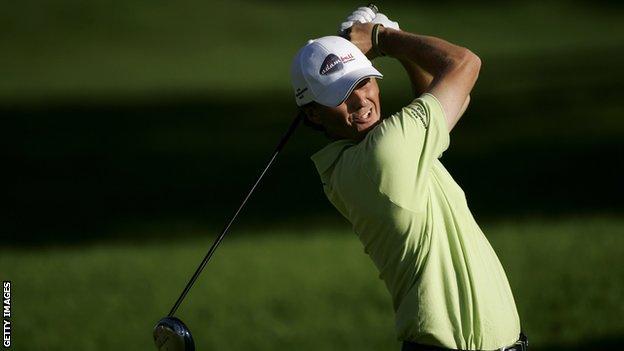 Warren Bennett will play his first Open in 10 years at Royal Lytham & St Annes this week hoping it is another step on a long road to recovery.
The injury-hit Kent golfer was so disillusioned with the game that three years ago he gave up to become a caddie on the women's tour.
"It feels desperate when your game goes," Bennett, now 40, told BBC Sport. "It's absolutely horrendous.
"It has been such a long journey back and I am not there yet."
Bennett, who plays his golf at Prince's, just down the road from last year's Open venue at Sandwich, seemed destined for greatness when his professional career began in 1994, shortly after winning the silver medal at the 1994 Open at Turnberry for finishing top amateur.
R and A secretary Michael Bonallack, himself a top amateur who resisted the chance to turn 'pro', even publicly tipped Bennett to one day win a major.
But while he is quick to insist that he did not feel unduly pressurized by such a prediction, Bennett admits now that having someone to bounce ideas off then would have done him a lot of good.
As he attempts to get his career back on course now, a major change to his approach has been to hire a coach.
"Michael Bonallack saying what he did about me being destined to win a major didn't affect me at all," he said. "I can't blame that. It was actually great to hear such a compliment.
"But could I have done better had I gone down a different road? If I was talking to the me of 20 years ago then I would tell myself to go and get a coach. I had never had one. Now I have a coach who I have been seeing for six months, who also looks after Robert Rock.
"For the first time I'm doing it right. Even if it doesn't work out this time I will know that I have put the effort it and I will have no regrets.
"A lot of my injuries came from being on my own. They were stress-related.
"I always had that sense of worry about my golf game. Even when things were rolling quite well I never felt I really had control of my game and it only took a couple of bad rounds for me to think: 'Oh no, what's wrong?'.
"I would then work too hard trying to put things right on my own, whereas now I have someone who just says: 'Do this' or 'Do that'."
It was a hand injury suffered in a bike accident that finally convinced Bennett to pack his clubs away. For fully six months he did not touch them as he concentrated on caddying, first for Austrian Bernd Wiesberger, then Trish Johnson on the Ladies Tour.
"By the time I had my accident I had already stopped," he said. "I had made my own bed. But it didn't help.
"The European Tour were great with me. They said any time I wanted to come back the door was open. But it was bad. There were a few tears because it hurts.
"It's what you dreamed of as a kid and trying hard not to fall out of love with it is hard.
"When I was caddying I still loved it but I just didn't love playing it."
The experience of being on someone else's bag finally helped him rediscover his hunger, however.
Now, fuelled by the way he eased though Local Final Qualifying at the notoriously tough Hillside course, he wants more than just his Open badge - he wants his tour card back.
"Obviously I'm here playing in the Open," he said. "But my aim is to get back on tour.
"I enjoyed the caddying but I started to feel like I wanted to play again. Golf has always been inside me, so I decided to do something about it before it was too late.
"I told Trish Johnson I wanted to go back and play. She said 'Go for it' and that was that.
"I have to go along with this. If I fail I know that I can live with that now. I couldn't have done that if I hadn't had another go. I just didn't want to look back in five years and realise that it was too late.
"I am essentially starting the whole thing over again. I knew it had to be now.
"There is a lot of emotion and stress that goes with the financial part of this but I'm willing to go for it. My wife has been great and has been willing to sacrifice everything.
"She's here this week with my 11-year-old sonTom.
"I haven't played the Open since Muirfield in 2002, when he was only a year old, and he can't wait to see me play. That's a real incentive."