The Open 2012: Jamie Donaldson welcomes Open challenge
Last updated on .From the section Golf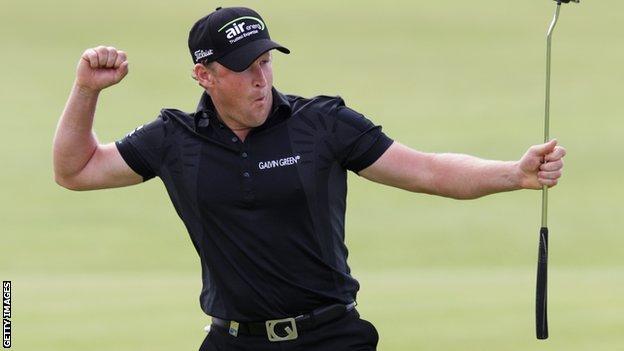 Jamie Donaldson says he is in the best form of his life going into Thursday's Open at Royal Lytham & St Annes.
But Donaldson warns that the links course he is about to face is another step up in difficulty from Ireland.
"Obviously out in Ireland it was a great week, the best week of my golfing career so far," Donaldson said.
"It was great but this is slightly tighter and the rough is slightly thicker, there's a lot of bunkers here and you've just got to keep out of them and put the ball in play on the fairway.
"We're playing pretty good, we just need to hit lots of fairways - if not all of them.
"It's very difficult, the weather is obviously going to play a big part as well this week, but overall it's a tough test and you've got to hit good shots."
Former world number one Tiger Woods has claimed that the rough at Royal Lytham is the toughest he has ever faced, while defending Open champion Darren Clarke has labelled it "brutal".
Donaldson agrees that the course will provide the sternest of tests but says he is excited by the challenge it will offer to his golfing skills.
"If you miss fairways you are in trouble. It's incredible, the last hole there's just so many bunkers you can't see fairway for bunkers. But there is a fairway there somewhere, you've just got to hit it!" Donaldson added.
"It is fantastic... it's just a very good test of golf and you've got to put the ball in play.
"A lot of the holes early on you've got to hit a five wood or three iron off the tee and you've got the same in again, it's a brutal test of golf."