Open 2012: Martin Laird braced for wet weather test
By Phil Goodlad
BBC Scotland at Royal Lytham
Last updated on .From the section Golf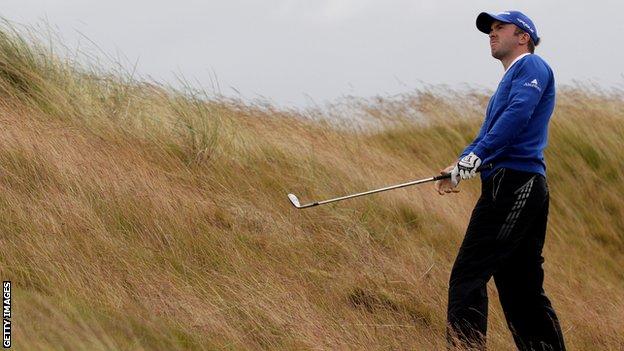 Martin Laird believes patience is key, with heavy rain forecast for the first two days of The Open.
"You've got to go out there with a survival mind-set and not let the weather get on top of you," he said.
"It's important not to get frustrated if you get off to a slow start. It's definitely challenging but there's nothing you can do about the rain.
"But, if the wind gets up to 30mph or so, then I can see it being a case of last man standing."
The US-based Scot has been impressed with Royal Lytham & St Annes and arrives on the back of a 16th-place finish at last week's Scottish Open, his challenge faltering after a disappointing final round.
A practice round made a favourable impression on the 29-year-old but he is none the wiser about what kind of total will be required to lift the old claret jug.
"Normally when I play a course, I have an idea of what the winning score will be but this time I have no clue," he told BBC Scotland.
"It all depends on how much rain we get, how soft the course gets and then the wind.
"That's what you've got to love about links golf."
The Royal Lytham rough has made the headlines, with Tiger Woods saying it is the toughest he's ever faced, but Laird is not complaining.
"The course is in fantastic shape and the rough isn't the problem everyone's making out," he explained.
"It's thick but I was expecting worse.
"I didn't hit any spots where I had to chip out sideways, you can move it 120-130 yards down the fairway.
"And it's not like the rough is just right there off the fairway.
"You've got to hit a bad shot to get in there and then you kind of deserve to be punished.
"It's a major championship, it's not supposed to be easy.
"If you hit good golf shots, you won't have to worry about it."
Glasgow-born Laird is yet to make the cut in three visits to The Open, with his best showing at a major a tie for 20th at the Masters in 2011.
"This tournament means a lot to me," he said. "I grew up watching it and it was the first event I went to as a kid.
"My Open record has not been great but I'm excited about turning that round."