The Golf Show hails JM Singh's Scottish Open triumph
By Graham Spiers
Golf Show presenter
Last updated on .From the section Golf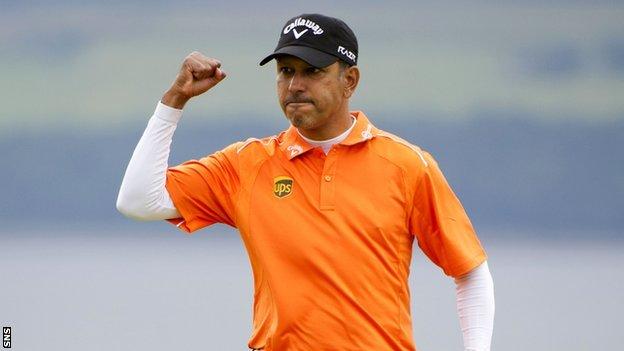 I was tickled by a comment from one of the sportswriters at Castle Stuart last week as Jeev Milkha Singh homed in on his Aberdeen Asset Management Scottish Open triumph.
"In this media centre we've spent days writing screeds about this golf tournament and scarcely one of us has mentioned Singh in the passing," he said.
"Well, lads…get him in your intros tomorrow."
To me it says everything about the charm and mystery of golf that this 40-year-old Indian, who hadn't won in four years, should show up in the Highlands of Scotland, on a links course to boot, and win one of the European Tour's most prestigious and richest tournaments.
With Singh, there is ever the danger of racial stereotyping in our comments - I want to avoid that if I can. But there is still genuine intrigue in how a man, who would have no linksland nurturing in the game at all, can do what he did at Castle Stuart in the Scottish Open.
This was an amazing, beneath-the-radar triumph by Singh.
Having said that, did Tom Watson, who won five Open Championships, ever have a nurturing on links golf courses? No, he did not. Though you would say that Watson, coming from windy Kansas, was at least reared in one of the key components of links golf.
Maybe the truth is more to do with the ability to improvise: it is what Open champions such as Peter Thomson, Jack Nicklaus, Watson and Seve Ballesteros were all about.
Old sages of golf say the Open is all about playing different types of shots - bump-and-run, "beneath the wind" etc - which means the real key is imagination.
Jeev Milkha Singh, as well as suddenly hitting a rich vein of form, showed calculation and imagination to win at Castle Stuart. And no country or culture has an exclusive claim on these.
The Senior Open Championship is played at Turnberry from 26-29 July, reminding me again that, even after they have turned 50, some of the world's greatest golfers are still worth watching.
Tom Watson, Fred Couples, Bernhard Langer, Tom Lehman, Sam Torrance, Ian Woosnam and Tony Jacklin are among a host of players set to tee-up next week on the Ailsa course.
I plan to head down to Turnberry for a couple of days to present features for The Golf Show from the Ayrshire coast.
But, work apart, I'd go anyway just to see the way some of these guys - as Watson proved at Turnberry in '09 - can make their talent endure.
My favourite golf courses: Fortrose and Rosemarkie
If you are anywhere near Inverness or Castle Stuart, then it is worth making the 20-minute detour over the Kessock Bridge to the Black Isle to play Fortrose and Rosemarkie.
This is a short links course, laid out on a finger of land pointing out into the Moray Firth, with some bite to it. The fairways are tight, the gorse is plentiful, and very often the wind is up. So if you come, bring your patience and forbearance with you.
A classic Fortrose hole is the 5th: a 121-yard par 3 which, depending on the wind, can require anything from a long-iron to a pitching-wedge. Someone even claimed to me they had once required a driver on that hole.
Like Nairn and many another links course in the Highlands, the greens at Fortrose are pretty special: fast and true.
I found it an exhilarating golf experience - but mentally about one of the hardest courses I have played.