The Open 2012: Warren Bennett has chance of making cut
By Ged Scott
BBC Sport at Royal Lytham & St Annes
Last updated on .From the section Golf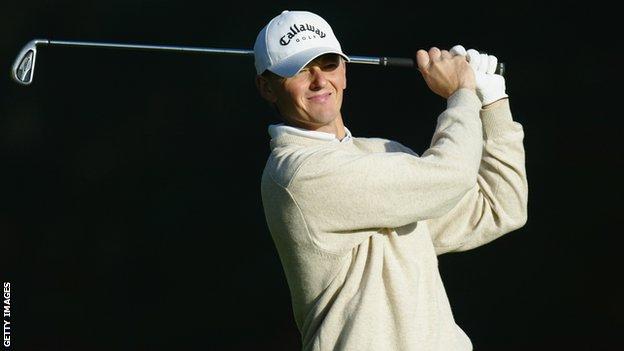 Warren Bennett made an emotional return to the Open Championship after a 10-year absence as he carded a one-over 71 at Royal Lytham & St Annes.
The 40-year-old remains in with a chance of making the cut, but the Kent golfer was disappointed with his score.
"It was acceptable rather than good," he told BBC Radio Kent. "It felt just like old times. I've a chance to make the cut and I'll be gutted if I don't."
Kent colleague Steven Tiley was a further shot back after a one-over 72.
The man from Royal Cinque Ports dropped shots at 2, 8 and 15, only to finish well with a birdie at 18.
By contrast, Bennett, who plays further down the Kent coast at Prince's, birdied the second.
After dropped shots at 5 and 7, he birdied the short ninth to go to the turn in level. But, coming home, a long run of pars was spoiled with a bogey at 17.
"It was perfect out there, the greens were perfect and I didn't feel that nervous, so I'm actually a bit disappointed," said the injury-plagued former European Tour regular.
"I've played a lot more tightly than that over the last few months."
If Bennett, aiming to get his career regenerated after giving up the game three years ago to caddie for Ladies Tour star Trish Johnson, was disappointed with himself, his 11-year-old son Tom certainly was not, watching his dad play in an Open for the first time.
"He got up here yesterday and he had the best afternoon in the world," added Bennett. "I took him on the range and he had his picture taken with Rory McIlroy and Justin Rose.
"And the first person he saw on the putting green was Bubba Watson. It's been unforgettable for him.
"But, while it's memorable for him, I want to it be memorable for myself.
"Trish Johnson's up here on Friday. I've not seen her since I stopped caddying for her but she sent a text to say well done on qualifying. And, although it will be good to see her, it would be even better to see her and make the cut.
"It will be a massive comedown when I've finished this week, which just makes my competitive juices flow even stronger.
"But it would make it a lot easier to go back to the minor tours having achieved something and that's got to mean a minimum target of making the cut."