The Open 2012: Paul Casey finds his old touch again at Lytham
Last updated on .From the section Golf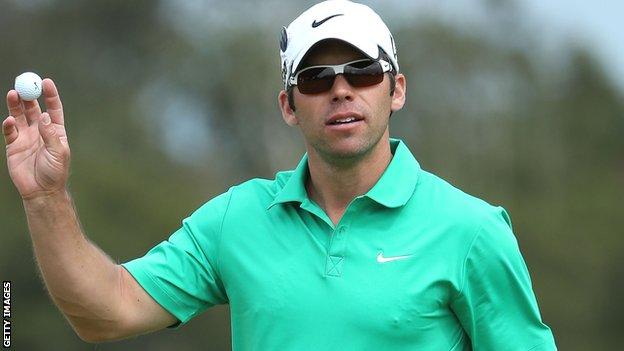 Paul Casey turned back the clock with a day for golfing history lovers at Royal Lytham and St Annes.
The Cheltenham golfer ended up in the same temporary car park once frequented by Seve Ballesteros on his way to winning the title here in 1979.
He also visited the 17th-hole bunker made famous by Bobby Jones in 1926.
And that was all after reaching the turn in 31 on his way to an ultimately disappointing two-over 72.
Having stood three under on the 13th tee, after birdies at 2, 4, 7 and 8 (the one blot being his bogey at the short fifth), the injury-hit Englishman knows it could have been a lot better.
But, after dropping one at 13, then finding Seve's car park, albeit from the 15th, to finish double bogey-birdie-double bogey-bogey, Casey preferred to dwell on the front nine.
"That's the best golf I've played so far this year," he told BBC Sport. "It was wonderful stuff. I struck the ball well. The goal for the day was to go out there and play worry free, just enjoy myself, and I did that.
"I soaked up what I thought was a great atmosphere, a lot of support. I threw some birdies out there, gave people something to cheer about. And I had a blast.
"My only disappointment is I knocked it in Seve's car park, which is now out of bounds.
"I have to confess, I wasn't aware it was out of bounds and I'd have enjoyed the challenge.
"There's no cars there now. Just a burger van and a couple of pie stands and an ice cream van.
"I'd have loved to have carved one around to the green, but I wasn't allowed to. Internal out of bounds . . . I've never been a fan of it.
"Clearly the shot on 15 was not a good tee shot whatsoever. But it would have been nice to get in there and play it. And I certainly think Seve would have loved to have been given one more opportunity to play from the tented village."
Casey's other brush with Royal Lytham & St Annes' rich sepia-tinged past also cost him a double - at 17.
"I knocked it in Mr Jones's bunker," he grimaced. "And having to play out sideways is never that fun. But this week it's going to happen to everybody.
"You're going to have to take your medicine and play sideways out of bunkers. The golfing gods always figure that out eventually.
" What did somebody say the other day . . . karma is the best debt collector in the world. So keep on smiling. And, in truth, I was really happy with that today.
"And what I have to do now is replicate what I did on the front nine today."
Casey starts his second round at 07:58 BST.