The Open 2012: Southport duo Slattery and Baldwin make cut
By Ged Scott
BBC Sport at Royal Lytham & St Annes
Last updated on .From the section Golf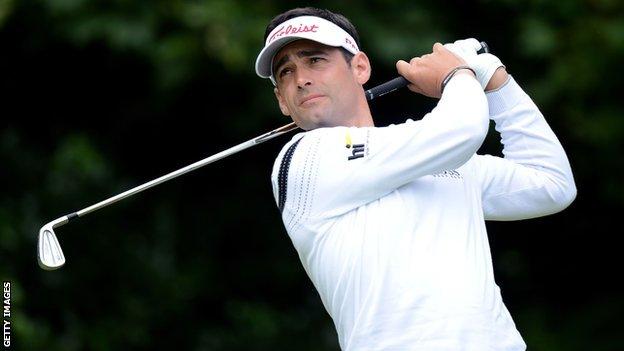 Southport duo Lee Slattery and Matthew Baldwin both squeezed through to the weekend in the 14st Open Championship at Royal Lytham & St Annes.
Slattery followed his first day one-under 69 with a 72 to stand on one-over par, while Baldwin is a shot back on two-over after a second round 73.
But Royal Liverpool pro Ian Keenan blew up badly, slumping to a 13-over 83.
"I paid the ultimate penalty for making too many errors," Keenan explained to BBC Radio Merseyside.
"It just seemed that every bad shot was severely punished.
"I'm overwhelmed by the support I had round here for the two days, but I really didn't see that coming at all as I've been playing much better than that."
Following his first day 76, Keenan ended up departing the tournament on 19 over.
"I really had my sights set a little higher," he added, "which makes it all the more disappointing.
"I ended up having to play a plugged bunker shot left-handed, which was a bit unusual, and one I hadn't practised, and I also an air shot.
"But I know I'm better than the scores I produced.
"And I'll certainly be looking to qualify again next year. I'm hungrier than ever, not just for next year, but for the rest of this year, as I can now afford to keep playing."
Meanwhile Slattery admitted his relief at making the weekend's play.
"I went out for a meal with my mum and dad on Thursday night," he said. "And they said they'd already booked their accommodation for the weekend, so that put a little more pressure on."
But Slattery handled that pressure well.
Resuming at one under, he strung together five successive pars before dropping shots at six, seven and eight to slump to two over.
He then got back to level with successive birdies at 16 and 17 before bogeying the last, and freely admitted that the course is now playing differently from the first day.
"It was tough playing that early in the morning," he added. "The pins were more difficult, right at the back of the greens. And anyone under par through six has played some golf.
"The back nine was easier today. But a lot of bunkers have water in them and they're difficult enough without that."
But he was kept going by the enthusiasm of the galleries.
"When I hit it to four feet at 17, it was the shot that ensured I'd be around at the weekend even if I hacked it up 18 and the screams were pretty loud," he said. "And I think my girlfriend was the loudest."
As for Baldwin, he recovered from three dropped shots in two holes earlier in his round to play the last 14 holes in level par, following as bogey at 12 with a birdie at 14.
"It was a battle," he said. "I played lovely and just didn't hole anything. But I managed to get there in the end.
"If the weather stays as it is and knowing the course as I do, if I can go under par again as I did in the first round then it's a chance to move up some places.
"But it's just nice being here. It's quite emotional walking round and seeing so many people you know."