The Open: Mental strength key to victory - Nick Faldo

By Rob Hodgetts
BBC Sport at Royal Lytham & St Annes
Last updated on .From the section Golf
Adam Scott leads the Open by four shots going into the final round at Royal Lytham & St Annes but Graeme McDowell, Brandt Snedeker and Tiger Woods are poised to pounce.
Three-time Open champion Sir Nick Faldo looks ahead to the final day's play.
Who is the pressure on most?
They're all feeling it, and everybody has different emotional reasons. Adam Scott is carrying a lot of expectation on his shoulders. Everybody thought he would be the next man to step up, but that was a long time ago now. But at 32 it is a great time in his life to finally make it happen.
For Tiger, because of all that's happened off the golf course, and, given it has now been four years since his last major, it is not a foregone conclusion and he knows it. Six years ago, he went to the top of the leaderboard and that was it and he was impossible to catch. Now we have seen him make mistakes at the wrong time.
What is the best strategy for coping with that pressure?
The best 15th club in anybody's bag is self belief. You have to look after yourself and deal with the whole emotion, the whole intensity, and the nerves - that's the key. You'll start to feel things you've never felt before. You get so engrossed in it. That's the beauty of it.
We called it "cocooned", they now call it being "in the zone". It's visualisation, too. I remember walking past the leaderboard on the Wednesday when I won my first Open at Muirfield in 1987.
My name was at the top as they were getting ready and I thought "I can deal with that". And on the Monday morning I knew I was going to be with the trophy and having an interview on the BBC. That was part of my visualisation, I wanted to hang around for that. But you have got to have a clear head and keep playing shot by shot. You need to really genuinely believe - not people telling you - you're fine and can hit shots and make good decisions, because your mind will be spinning. It's not just playing golf on a Sunday afternoon - it is emotion, commitment, determination and nerve.
Who has the advantage if it is windy, the leader or the chasers?
It is easier for the chasers. They can use it as an opportunity and try to make something happen. If it comes off, then fantastic. They can post a score, whereas the leader is playing with nerves. It can be difficult to battle on with shots getting knocked off line and ending up in bad spots. There might be no respite. You've got to be really confident of your own game to make a score.
If the wind does blow we might finally see the true back nine here. When you play into that hard left-to-right wind from the 10th onwards it's a brute. That's the real character of this golf course. Eighteen holes is a long haul still and there are a lot of permutations. We've seen a lot of tournaments this year where guys have come from way back. Webb Simpson was four back when he won the US Open. I'd say six shots is doable. McDowell or Snedeker at four back might just take level par now.
What do you think about Woods's cautious strategy this week?
It is a good strategy. With so many bunkers and so much rough, it's smart thinking to throttle back. But guys can sting a two iron 270-280 yards. That's as good as a driver in our day. Woods has actually been playing like that for a good couple of months because he hasn't been comfortable with his driver. It is a good confidence boost because you're belting good, solid shots and you're moving on.
A poor swing with a driver could seriously cost you here. You could run up a double bogey in a heartbeat. He's really trying to minimise the risk and not give it away. At Congressional a few weeks ago it was brutally hot - over 100F all week - and he just played solid golf and physically wore everyone out. He might be able to win here just by super-smart play - hitting the fairways, hitting the greens.
How do you prepare when you're in contention for the final round of a major?
It's a 15:20 BST tee off for the leaders so it's hard to occupy yourself. When I first won at Muirfield I had 10-month-old Natalie in her cot in the corner of our room in the Marine Hotel. It's a long day when your little daughter is up at 6am.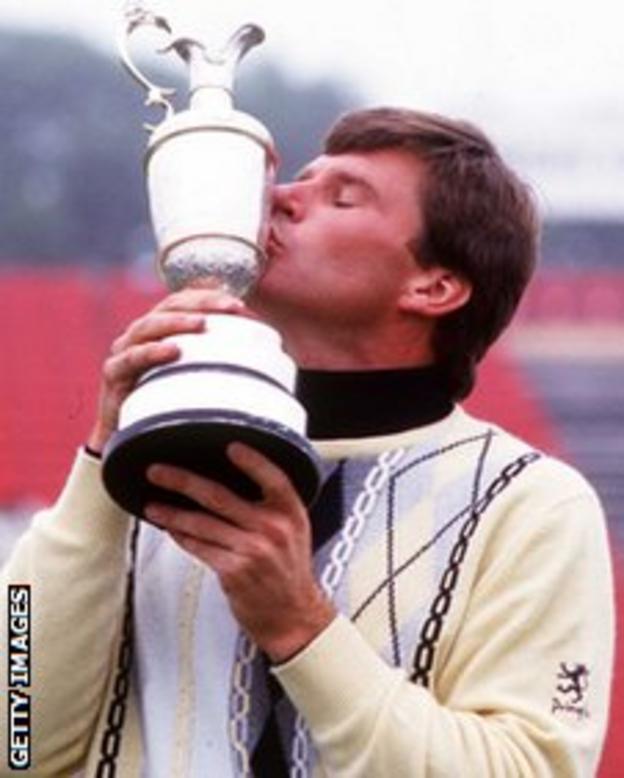 Most of the time I didn't go too far, or do much, although when I won at St Andrews in 1990 I did a full practice session - hitting balls, chipping, putting - and then went back for some lunch and a snooze. Then I went and did it all again for real. It's each to their own but the best moment for me was finally walking onto the range because I was in my own environment and I could get on with it.
I didn't like watching any TV coverage but in some ways you should - you can read some putts. Not watching actually cost me here at Lytham in 1996 when I was playing with Tom Lehman. I had a putt on the first green that lots of other guys had had, and made, but I misread it. If I'd watched TV I'd have seen it. But you do whatever you think.
Playing golf on the Sunday of a major is the greatest feeling in this sport, to have your stomach churning and to go out there and hit some shots better than you could ever imagine. After all the focus, when you knew it was over, you could physically feel the adrenalin wallop out of you. It was quite amazing.
What do you think about Luke Donald's and Lee Westwood's performance this week?
Luke's battling away. This week was probably better than the score suggests. He's the only one of the English guys to have asked my advice and came to see me about six weeks ago. He has always struggled on day one of majors.
The US Open was a disaster and he realised a couple of things I was talking about. It's about preparation, hitting shots you know you can play, not trying shots in majors you're not comfortable with. He's still growing, still learning.
Lee was under a lot of expectation and pressure. He has a few scars from places like Turnberry where he had the lead and didn't quite get in. And being close to 40, in golfing terms, has an effect on a lot of us. It's how good your nerves are when you get older.
He's had to deal with people talking about how his short game is not so good and holding him back. He should turn it back and say, 'Ok, my short game isn't great but I'm working on it' rather than defending it all the time. Ian Poulter said years ago he wanted to tap my brain for Augusta but he never has. I'm always available and very cheap!