The Open 2012: Martin Laird stays positive after Saturday slump
Last updated on .From the section Golf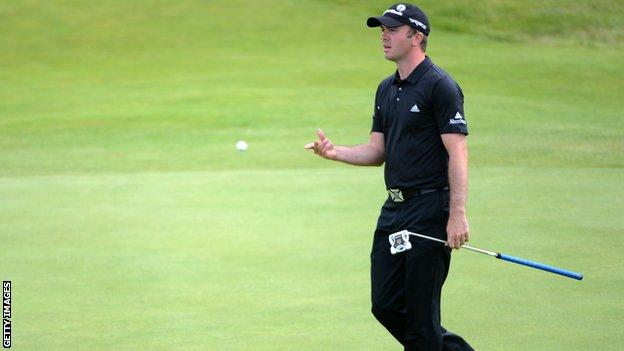 Martin Laird still loves Royal Lytham despite the nightmare Saturday that wrecked his Open.
The US-based Scot finished with a level par 70 after opening rounds of 70 and 69 but his challenge was blown away after a horrendous 82.
"I'll forget about Saturday and remember this one," he said after completing the final round on his own in just two hours, 12 minutes.
"I love this course. I really enjoyed playing it, even after yesterday."
The 29-year-old began the weekend in a tie for 16th, having missed the cut in his three previous visits to The Open, but slumped to the bottom of the leaderboard following his 12 over par round.
"It was just one of those days - probably the worst I've ever driven the ball," he explained.
"I counted it up last night and I was in nine bunkers.
"I tried to sort out what happened on the first two days.
"The way I had played was not going to win, so I tried to fix it to get back in the tournament and it went the other way.
"I told my caddie I'm not here to just scrap it around and be happy with a top 20, but it was weird - the warm-up yesterday was one of the best I've had in a while.
"It just shows it does not matter what happens on the range.
"I lost a ball in the rough on the second and that's never a good way to start. Then on the sixth I hit an iron 30 yards right into a horrible lie, hacked it out and the ball ran into a bunker.
"After that I set mini-goals, like trying to break 80."
He needed a birdie on the last for that, but double-bogeyed it.
Laird will do some coaching with the Scottish boys team on Tuesday, then will attend a friend's wedding on the Mull of Kintyre before heading back to the United States for the Bridgestone world championship and USPGA Championship.