The Golf Show's Graham Spiers on golfers and grief
By Graham Spiers
Golf Show presenter
Last updated on .From the section Golf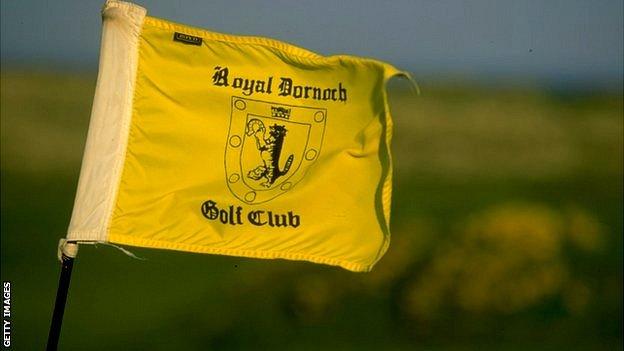 There have been a number of strange occasions in golf when mourning has led to triumph. We've just witnessed another of them.
Grant Forrest, the 19 year old from Craigielaw, pulled off a memorable triumph in winning the 2012 Scottish Amateur Championship at Royal Dornoch.
In doing so Forrest joined such luminaries as Ronnie Shade, Charlie Green, Colin Montgomerie and Stephen Gallacher in winning this prestigious title.
But it was what went before which makes his Dornoch win all the more touching.
Forrest's Dad, Graeme, who would have turned 50 during the week of his fine conquest, had died from cancer just three weeks earlier.
"I think he would have been proud of me," Grant said with a gentle understatement. "He was a big influence."
When I interviewed Grant for The Golf Show there was still an understandable hurt in his voice.
In the very hours of his Scottish Amateur success there was only one man he was thinking about. A part of him must have pined for his father to have known what he had accomplished.
A bit like Alex McLeish, the footballer, whose Dad died having seen his early triumphs, but not his whole career, Grant at least knew that his father had witnessed enough of his early promise.
Graeme Forrest had seen his son win the Scottish under-16s title and the Scottish Boys Championship, so he knew he was something special.
Grant can at least be consoled that his Dad had witnessed the flowering of his talent.
"It was never in my mind to go up to Dornoch and win," he said. "It just happened."
Mourning in sport can be a strange thing. And I've never seen it affect sportsmen more acutely than in golf.
Ben Crenshaw's 1995 Masters triumph at Augusta was the most moving I have ever witnessed in this context.
Crenshaw had been having a plodding time of it in that 1995 season prior to Augusta. His record going into April had been missed-cuts here and there and ties for 30th elsewhere.
But then something extraordinary happened.
Harvey Penick, Crenshaw's coach and father-figure of over 25 years, died early in the week. A mourning, out-of-form Crenshaw was a pall-bearer at the funeral on the Tuesday. On the Thursday an emotionally-drained Crenshaw teed up at Augusta.
On the Sunday he was suddenly the Masters champion for a second time.
How did this happen? Wherein was the trigger for mourning to catapult someone to triumph?
Crenshaw himself was speechless, except to say: "I felt Harvey's hand on my shoulder all week long - he steadied me." To this day that Crenshaw win defies a clear explanation.
Grant Forrest has joined Ben Crenshaw in achieving one of his greatest feats while his heart ached.
This young Scotsman has been told by everyone that his Dad would have been bursting with pride for him, but that might be small consolation.
What Forrest can now do, though, like Crenshaw, is make his golf career a fitting tribute to the man who nursed him and encouraged him the most.
My favourite courses: Inverness Golf Club
Give me any excuse to loll around the Highlands for a few days - always with golf clubs in the boot of my car. And in Inverness GC I've rarely seen a parkland course as lush and green as this.
The course has lovely, quirky holes, such as 'Wyvis', the 6th, a short par-4 with its blind tee shot and demanding chip over water to the green. When you walk, hopefully unbloodied, off that hole you then face the 'Spion Kop', a par-3 with its elevated green and alarming copse of trees to the left.
The north of Scotland is famed for its many links courses, but Inverness GC is a refreshing contrast to that, with 18 holes of enjoyable variety and condition.