US PGA inspiration is from GB Olympians - Luke Donald
Last updated on .From the section Golf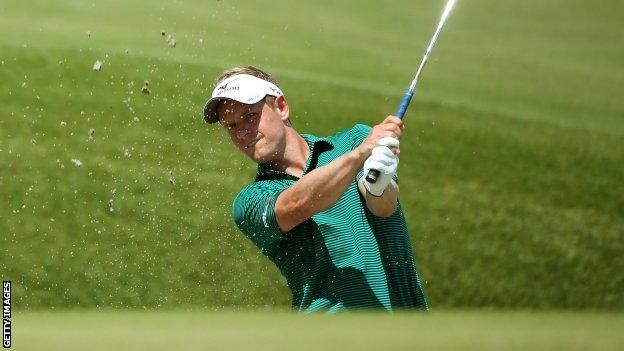 Britain's Luke Donald says he will draw on the Olympic success of Great Britain as he attempts to win his first major at this week's US PGA Championship.
The world number one will line up at Kiawah Island in South Carolina hoping for his first win in 38 attempts.
And the Englishman is been impressed by the performances at London 2012.
"I think Mo Farah's last lap was pretty special and Jessica Ennis, living up to the expectation that was put on her shoulders," he said.
"They're all inspiring in their own way. The fact that you have one event every four years to really work hard, to see some of the guys who don't perform and to see some of the guys that perform and win gold, I mean, there's a lot of raw emotions there."
Donald could be part of the Olympics in Rio 2016 as golf returns to the schedule after a gap of more than 100 years. To be there he will either have to be in the world's top 15 still or be one of Britain's top two players, and he is keen to be involved.
"Watching certainly has inspired me a lot in terms of having that wish to be there in four years, to have an opportunity to also win a gold medal," he admitted.
The 34-year-old will be hoping to have learned from the experience of missing the cut at the US Open in June before a creditable show at the Open where he finished tied for fifth.
"Coming off the US Open I was very disappointed how I kind of handled the situation mentally," he said.
"I didn't come in hitting the ball that great and maybe that added to some of the anxiety.
"But certainly I think there was a little bit of a breakthrough, just realising at the Open that no matter how I'm hitting it physically there's always a way to mentally be on top.
"I did that very well and as a result I also played pretty well."