US PGA: Rory McIlroy worried by majors slump
Last updated on .From the section Golf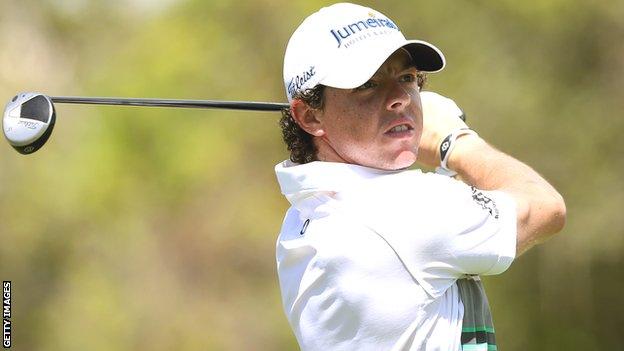 Rory McIlroy wants to feel the "buzz" of being in contention at the US PGA after struggling in recent majors.
"I'm disappointed that I have not contended (in majors) since," he said. "I haven't given myself even a chance.
"It would be great to feel that buzz again - of getting into contention in a major and remembering how it feels."
McIlroy tied for 40th at the Masters in April, after closing with scores of 77 and 76.
He then missed the cut at San Francisco's Olympic Club on his US Open title defence and finished joint 60th at last month's British Open.
Asked to assess his 2012 campaign, McIlroy replied: "It's been good. There were a few goals I set myself early at the start of the year, which I achieved; getting to number one in the world, playing well, winning a tournament early.
"The second half of the season has been a little bit more of a struggle but I feel like I'm playing pretty well.
"If I had to give my season a grade to this point, I'd probably give it a 'B'. And I've still got a lot of good golf to look forward to."
McIlroy likes the look of the ultra-long, 7,676-yard Ocean Course at Kiawah Island which will host the year's final major.
"It's a long golf course, a big golf course, a golf course you not only have to hit it well, but you really have to think about what you're doing out there," he added.
"You really have to pick your spots where you want to hit it, and obviously with the weather the way it's been this week, that's going to play a pretty big factor, too.
"But you know, I like what I see. I think the course is in phenomenal shape. I love the greens. I love the paspalum (grass). I think the ball rolls really, really well so I'm looking forward to the week."