Tiger Woods shares US PGA lead with Vijay Singh & Carl Pettersson
Last updated on .From the section Golf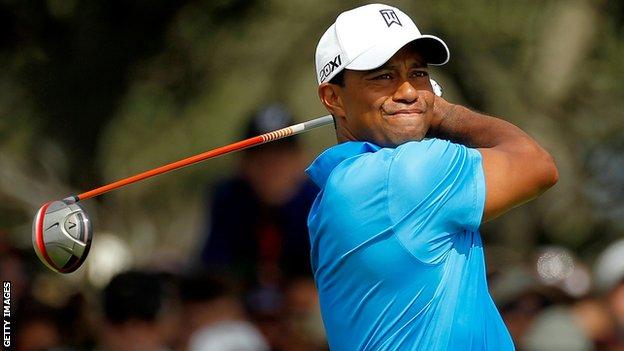 Tiger Woods is in a three-way share of the lead on four under at the halfway stage of a windy US PGA Championship.
The American battled wild conditions at Kiawah Island to fire a one-under 71 and top the leaderboard with Sweden's Carl Pettersson and Fiji's Vijay Singh.
England's Ian Poulter (71) is one shot off the lead, while Northern Ireland's Rory McIlroy (75) and Jamie Donaldson of Wales (73) are two back.
World number one Luke Donald (76) made the cut but Lee Westwood missed out.
The Englishman, who is ranked fourth in the world, needed to birdie the last to qualify for the final two rounds, but he could only par the 18th to card a five-over 77 and finish on seven over.
Almost an inch of rain fell overnight on the Ocean Course in South Carolina and strong winds blowing in from the sea made the course incredibly tough.
Open champion Ernie Els watched his tee-shot on the 579-yard par-five seventh pushed into the rough by the wind, leaving him 365 yards to the front of the green.
The South African, who is seven shots off the lead after a three-over 75, said: "A bit of rain came in, and man, I was just trying to put anything in play and I took a three-wood, and I hit it right.
"I made an unbelievable five on the par-five. But that's when I knew, hey, it's blowing a little bit."
Woods, who has won this tournament four times, embraced the elements, with birdies on two of his first four holes.
"It was hard staying steady and a couple of times I was getting blown," said the world number two, who also birdied the 12th to lead on five under.
"It was fun but it was also tough because you were getting blown all over the place."
However, Woods, who last won a major at the 2008 US Open, three-putted the last hole to drop back into a tie for the lead.
Fiji's Singh, who won the US PGA in 1998 and 2004, teed off in the worst of the weather but finished with five birdies and two bogeys as the 49-year-old became the only man to break 70.
"After a while you don't really think about your score," he said. "You just think about each hole, each shot and just try not to mess up.
"Those two footers are important out here. On 16, 17, 18, it was so hard just standing on the greens trying to make a putt."
Pettersson, who began on the ninth, dropped shots on two of his first three holes and had three successive bogeys from the sixth in his two-over 74.
Poulter leads the British challenge after a one-under 71 but, like Woods, he took three putts on the last to register a bogey.
The Englishman, who could move into a Ryder Cup qualifying spot with a top-nine finish, described the course as "brutal".
"I would like to find anybody that can get around this golf course in under six hours in this wind," he added.
"But when you're in contention then it's fun in a sick way, I guess."
Donald, 34, went into the tournament hoping he had learnt from his missed cut at June's US Open.
But after opening with a 74, he started his second round on the 10th with a double bogey and then dropped shots at each of the last three holes to leave his place at the top of the world rankings in doubt.
He said: "It's just one of those weeks. I actually played decently this week and got nothing out of it.
"The course changed quite a bit and you had to adapt. Certainly it didn't play anything like the practice days."
Northern Ireland's Graeme McDowell shot 76 to drop to level par, alongside America's Phil Mickelson who carded a one-under 71.
McDowell, who won the 2010 US Open, believes he is still in a good position going into the weekend.
"I'm feeling a bit bruised and battered," he said. "It was a very difficult set-up and on a calm day it would have been a tough golf course, but with a 25 and 30mph wind it was a very tough course.
"It was a case of survival. Vijay Singh shot three under and that is one of the best scores I've ever seen. Anything under 75 is a very good score.
"If this wind continues, I'm not going to be far away. I'm going to be right in touch going into the weekend."
Australia's Adam Scott, who crumbled in the final round when leading the Open last month, produced a three-over 75 to sit one under par.
American Matt Kuchar was one of those enduring a miserable day, scoring an 82 that included 10 bogeys and a double bogey, while compatriot Rickie Fowler scored 80.
Defending champion Keegan Bradley followed his opening round of 68 with a five-over 77 to go into the weekend on one over.