US PGA: Conor McNamara selects his Day Four highlights
Last updated on .From the section Golf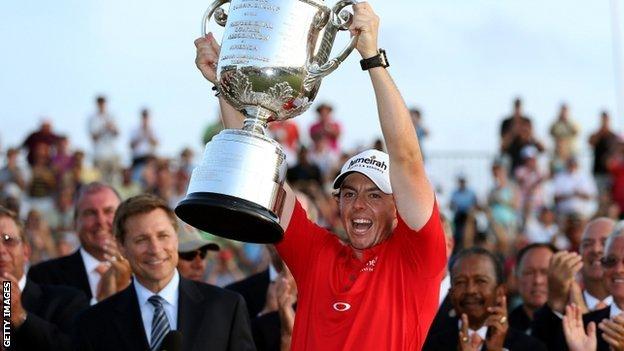 Northern Ireland's Rory McIlroy was in record-breaking form as he became the first British golfer in more than 90 years to win the US PGA Championship but what were the other highlights from the final day's play?
BBC Sport's Conor McNamara selects his best moments from Day Four at Kiawah Island.
Record Breaker of the Day
Rory McIlroy has become the youngest winner of the US PGA Championship since it was altered from matchplay to strokeplay in 1958. The 23-year-old has now claimed two major titles at a younger age than Tiger Woods was when he won his first two majors - only Seve Ballesteros in 1980 and Jack Nicklaus in 1963 were younger.
McIlroy's eight-shot victory is also a new tournament record, beating the previous highest winning margin set by none other than Nicklaus at Oak Hill 32 years ago.
Quote of the Day
Tiger Woods: "I was just trying to relax and have fun out there. It was a bad move on my part."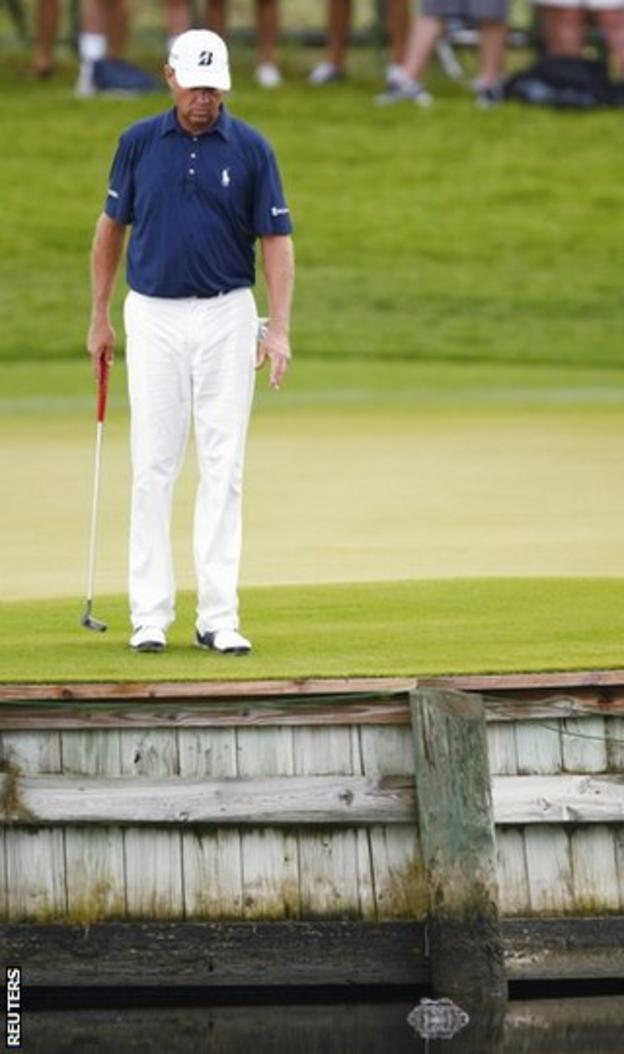 Weird Sight of the Day
Alligators are a frequent sight around the Ocean Course at Kiawah Island, but one spectator's attempts to interact with one of them went too far. The slightly worse-for-wear fan tried to feed a plastic glass full of beer to an alligator and was lucky not to have become a bar snack himself.
Fashion Statement of the Day
Because thunderstorms stopped play early on Saturday, McIlroy had complete his third round early on Sunday morning. Before beginning his fourth round he went back to his accommodation to have a rest and interestingly, change his clothes.
McIlroy arrived on the first tee for his final round wearing a bright red shirt, the significence of which will not have been lost on any golf fan. Red is the colour Tiger Woods always wears for final rounds, and has done for all 14 of his major victories.
In the past, famous golfers have tried unsuccessfully to surpass Woods in red. In the 2006 US PGA Championship at Medinah Luke Donald was tied with Woods going into the last round, and decided to wear the same colour as his rival for the final round. Woods won by five shots.
McIlroy's victory in red saw him finish 13 shots clear of Woods, an indication that there is now a new Sheriff in town.
Hot streak of the Day
England's Ian Poulter managed five consecutive birdies at the start of his final round. At the time, it brought him to within one shot of McIlroy's lead. It is the only time this season that a player has managed five straight birdies at a major.
Number of the Day - 0
McIlroy had no bogeys on his card for the final round.
Motivation of the Day
McIlroy's private life has come in for much scrutiny, and a fair bit of criticism as well, since he began dating tennis player Caroline Wozniakci. Both tumbled off their respective world number one slots and many have speculated that the relationship was a distraction for their respective sporting ambitions.
Having lifted the Wanamaker Trophy, McIlroy said: "It did motivate me to prove people wrong. This was the best way to do it." Winning the US PGA Championship returns the Northern Irishman to the top of golf's world rankings.