Golf Show: Jose Maria Olazabal must choose Ryder Cup wildcards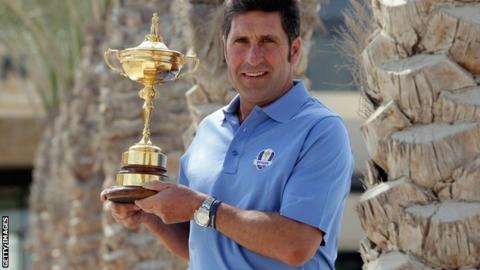 The eyes of the golfing world are on Jose Maria Olazabal this week, as Europe's Ryder Cup captain announces his two wildcards for the biennial clash with the USA next month.
With just one weekend of tournament play remaining (August 23-26) 10 of Europe's 12 players are currently in place for an automatic berth. They are Rory McIlroy, Justin Rose, Graeme McDowell, Paul Lawrie, Francesco Molinari, Luke Donald, Lee Westwood, Peter Hanson, Sergio Garcia and Martin Kaymer.
The Barclays event in America and the Johnnie Walker Championship at Gleneagles are the last counting events to make the team automatically.
On that score one current wildcard option, Nicolas Colsaerts, could force his way in via a top-two place in Scotland - which would oust Kaymer - while Padraig Harrington, another outside possibility, might have to win in the USA to make Olazabal select him.
Between Olazabal and Harrington, however, it is more complicated than that. Bad blood has flown between the two since an incident in 2003 when the Irishman questioned Olazabal's conduct during a tournament, forcing the Spaniard to concede a hole in disgust.
Golf insiders believe this may be one reason - apart from his current mediocre play - why Harrington will not be one of the European captain's picks.
Unless tournament finishes dictate otherwise this weekend, Olazabal will pick Ian Poulter as his first wildcard, and probably Colsaerts as his second. It would leave Europe with a strong-looking team, save for Kaymer, whose form has dipped worryingly in recent months.
Lawrie rightly insists that his game has never really been far way.
Nonetheless, to be back on a Ryder Cup team 13 years after his last appearance, and having not won a tournament for nine years between 2002 and 2011, is quite a feat.
"My game has never been that bad," said Lawrie. "But it was about working harder, focusing more, and this feels like a huge achievement for me."
Meanwhile the announcement that Augusta National is to welcome two women members - Condaleezza Rice and Darla Moore - for a first time has left people in Britain asking only one question: will clubs like the Royal and Ancient of St Andrews and Muirfield follow suit?
The Augusta decision suddenly makes life awkward for Peter Dawson, the chief-executive of the R and A, as well as a member of its sibling golf club, who has so far resisted calling for golf's gender-barriers to be dropped.
With the 2013 Open set for Muirfield next summer, what a song and dance is now looming over this issue.