Rory McIlroy undecided over GB or Ireland Olympic spot
Last updated on .From the section Golf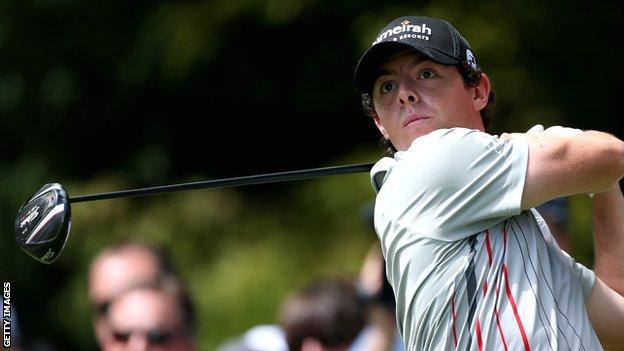 Rory McIlroy says he is yet to decide whether he will opt to represent Britain or Ireland at the 2016 Olympics in Rio.
Media reports on Monday suggested the Northern Irishman would represent Britain at the 2016 Games when golf returns to the Olympics.
However, McIlroy said he had not yet made up his mind.
"I have absolutely not made a decision regarding my participation in the next Olympics," said the world number one.
"On a personal level, playing in the Olympics would be a huge honour.
"However, the Games in Rio are still four years away and I certainly won't be making any decisions with regards to participation any time soon," added McIlroy, who is from a Catholic background.
With competitors from Northern Ireland having the choice of representing either Great Britain or Ireland, McIlroy acknowledged he is in "an extremely sensitive and difficult position".
"I am a proud product of Irish golf and the Golfing Union of Ireland and am hugely honoured to have come from very rich Irish sporting roots, winning Irish Boys, Youths and Amateur titles and playing for Ireland at all levels.
"I am also a proud Ulsterman who grew up in Northern Ireland, which is part of the United Kingdom. That is my background and always will be.
"I receive huge support from both Irish and British sports fans alike and it is greatly appreciated.
"As an international sportsman, I am very lucky to be supported by people all over the world, many of who treat me as one of their own, no matter what their nationality, or indeed mine. This is the way sport should be."
Golf will return to the Olympics in Rio after a 112-year absence.