Women's British Open: Yani Tseng relishes Hoylake challenge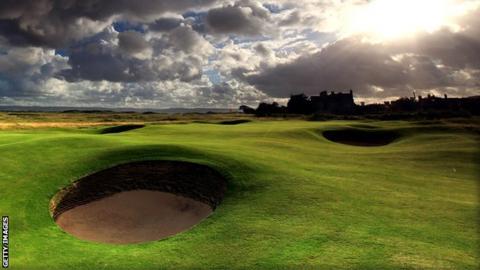 Women's British Open 2012
Venue:

Royal Liverpool Golf Club, Hoylake

Date:

13-16 September

Coverage:

Live coverage on BBC TV - 13:00-17:15, BBC Two, Thursday and Friday; 14:30-16:30 BBC One and 16:30-17:00 BBC Two, Saturday; 14:00-17:00 BBC Two, Sunday. Updates on BBC Sport website.
World number one Yani Tseng believes she can add to her tally of majors at the Women's British Open, which starts at Hoylake on Thursday.
The 23-year-old reigning Open champion from Taiwan already has five majors, unprecedented for a player of her age.
"I'm ready to rock. I'm just excited," said Tseng, who last won a major in 2011. "It's my turn to win again."
British interest centres on 2009 winner Catriona Matthew, 2004 champion Karen Stupples and veteran Laura Davies.
Tseng is aiming for a third successive triumph at the Open, having first won the championship in 2010.
She has suffered something of a slump in form this year, but says that the 2012 success of Rory McIloy has inspired her.
McIlroy halted a slump to win the US PGA by eight shots last month and Tseng said: "I think Rory is very good for me to look at.
"I watched his interviews and he was saying he loves this game... this is his dream.
"I feel like I'm living the dream too. I'm very hard on myself this year and I'm never like that before, so now I want to get back and enjoy the game again and smile on the golf course as I used to do.
"This week my goal is just to have fun and show my smile to the fans."
Davies, 48, is aiming for a fifth major title.
"If I could choose to win one more tournament in my career, it would be this week or any British Open," Davies said.
"I'm really looking forward to it. I'm playing well and I think I'm playing well enough to get myself in the mix on the weekend."
Davies won her first major at the US Open in New Jersey in 1987 while 20-year-old Scot Carly Booth is making her championship debut at Hoylake.
Booth, from Comrie in Perthshire, has two wins on the Ladies European Tour this season and currently tops the European Order of Merit.
"I'm really looking forward to it and it's nice to have family there," said Booth, whose mother was born in Merseyside.
"It will be my first British Open so it's just about gaining experience. We'll see how it goes. I've played Hoylake maybe two or three times but it's been a while."