Ryder Cup 2012: Ian Poulter driven by passion and pride
Last updated on .From the section Golf4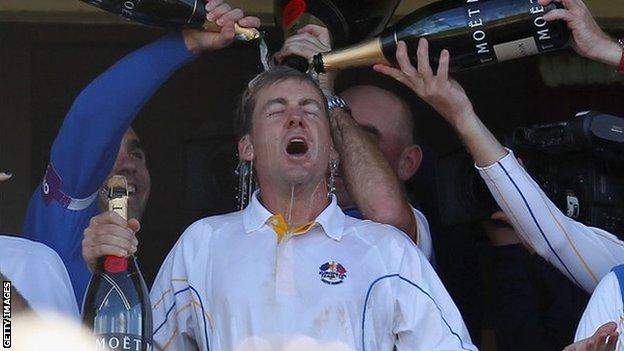 It is a dank dawn in south Wales. The sky hangs low and rain hammers on brollies, but the air crackles with excitement.
In the amphitheatre of grandstands around the first tee, the usually genteel sport of golf has again been hijacked by something altogether more boisterous.
Chants, songs and wisecracks bounce back and forth. The crowd senses sport and feeds off itself as the anticipation and tension build for the biennial bunfight.
European players are greeted with roars and songs bearing their names; Americans receive polite, light-hearted taunting. The opening matches of the 38th Ryder Cup at Celtic Manor are go.
"It's the most amazing energy, electricity and adrenalin rush you've ever had," said European star Ian Poulter.
"You're so proud to be there. You are representing Europe, you're excited, nervous - there's every emotion running through your veins.
"It's very hard to explain but if you were a petrol head, and someone said, 'here's a Formula 1 car and you can do 200mph, off you go', that's what it feels like."
Poulter seems to gain strength, rather than wilt, in this pressure cooker and is becoming something of a cult figure for Europe.
The 36-year-old Englishman, one of European captain Jose Maria Olazabal's two wildcard picks, along with debutant Nicolas Colsaerts, will return for his fourth Ryder Cup appearance at Medinah Country Club, outside Chicago, next week (28-30 September).
He made his debut in the 18½-9½ rout of the United States at Oakland Hills in 2004 and received a wildcard from Nick Faldo for the 2008 match at Valhalla. His selection attracted a certain amount of controversy, not least because of Poulter's unwillingness to attend the final qualifying event, but he repaid his captain's faith with a gritty and passionate display to emerge as the leading points scorer on either side.
Two years ago at Celtic Manor, Poulter bagged three points from four to take his Ryder Cup record to eight wins in 11 matches, and he remains unbeaten in singles.
"It goes back to my days as an assistant in the pro shop and being a golf fan, going with a couple of friends to the 1993 Ryder Cup and living in a tent for the week," he said.
"We saw what it meant up close and personal to everyone that played in the Ryder Cup, the passion on the golf course, the fans and the electricity. To embrace it and now be part of it is something I truly love. It is not about money, this is about pure passion."
Occasionally, of course, the fervour of the fans has led them to overstep the mark, as in Brookline in 1999. Since then the lid has largely been kept on emotions, but daily crowds of 40,000 from America's sports-mad "second city" will ensure the European side know where they are.
The European fans, meanwhile, will counter with the humour and good-natured singing that has fostered more of a party atmosphere in recent years.
"Away soil can be a bit intimidating and Valhalla was very, very loud and got near the edge a couple of times," said Poulter. "But we have an amazing set of fans and we'll have a huge, vocal following out there.
"But, to be honest, you don't need to block the crowd - you've got to embrace it and use it. It all adds to the electricity.
"You've got 30 to 40,000 fans asking you to deliver a shot and waiting with bated breath. You should be fired up to play that shot and use the energy you're getting from the crowd to your advantage."
Poulter's attempts to qualify automatically this year were hampered by a bout of pneumonia earlier in the season, although he could still have overhauled Germany's Martin Kaymer for the final spot if had competed in the final qualifying event at Gleneagles in Scotland. Instead, he was the obvious choice for the first wildcard and took a call from Olazabal on the Sunday evening.
"I think he gets the best out of himself playing the Ryder Cup," said Olazabal. "The two times I had the opportunity to share a few moments with him at Valhalla and Celtic Manor, you didn't need to motivate him. Just by looking at his eyes you could see he would give everything he had."
For his part, Poulter, who admits he would relish the chance to be captain himself one day, believes Olazabal is everything he wants in a leader.
"He's been a very inspirational vice-captain [in 2008 and 2010] and I think he'll be the same as a captain," he said.
"He's very personal with everybody, he's very emotional with the Ryder Cup, he's lived and breathed it, he's had an incredible partnership with Seve so we'll see that and everybody will feed off him."
Poulter has played under three captains, Bernhard Langer, Faldo and Colin Montgomerie, and says each had a very different approach.
"Bernhard was very Bernhard, and by that I mean very regimented, very military in a way, but all done very well," said Poulter. "Nick Faldo was a lot more relaxed, Colin was very thoughtful, with a lot of people there to help him."
Faldo was criticised in some quarters, largely for a singles order that left Poulter, Lee Westwood and Padraig Harrington until the end, by which time the match was over and Europe had lost.
Montgomerie, meanwhile, left reigning US champion Graeme McDowell until last, but for him the strategy paid off as the tournament went to the final group and McDowell beat Hunter Mahan on the 17th.
"It's very easy to criticise a losing captain," said Poulter. "There is no right or wrong way. The fact is the players have to deliver their point. If you front-load and they deliver, great; if you front-load and they don't deliver, you put a lot of pressure on those with less experience further back."
Europe's successes are often attributed to a perceived superior team spirit and camaraderie, fostered through closer relationships week in, week out on the Tour. But Poulter believes the Americans, with a new crop of players coming through, have become a tighter unit in recent cups.
"My opinion, looking from the outside, is they get on as a team better than they might have done a few years ago, and with that in mind they are two very even teams," he said.
The 39th Ryder Cup is upon us. The maelstrom returns at Medinah.