Ryder Cup 2012: Who will play together at Medinah?
By Stephan Shemilt
BBC Sport
Last updated on .From the section Golf20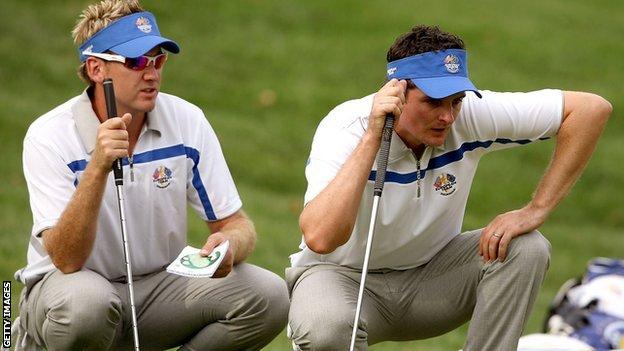 When it comes to sporting leaders, surely it is a Ryder Cup captain whose reputation lies most in the hands of fortune.
With the wildcards picked, the course adjusted and the colour of his shirt chosen, all that is left for a captain is to select his partnerships and singles order, send his men out and wish them luck.
"All the captain can do is to make sure his players are ready and playing the best possible golf," said former Europe vice-captain Ken Brown. "The order and pairs are luck as much as judgement."
This may be the accepted wisdom, but it will not stop speculation surrounding who Jose Maria Olazabal and Davis Love will pair together when the Ryder Cup begins at Medinah near Chicago on Friday.
At 07:20 local time (13:20 BST), the first of four foursome contests will signal the start of the 39th Cup, with the same number of fourball battles following in the afternoon. Saturday will see the same again, before Sunday's conclusion which features 12 singles matches.
"Fourball is much the easier form of playing because you can be a bit more cavalier. In modern times, it's about who might make a lot of birdies," added Brown.
"Foursomes matches are often not won by brilliance but by consistency of playing well. You would try and get players that keep the ball in play and are reliable."
Knowing the nature of the golf that is required, captains will be formulating their plans long before team practice begins on Tuesday. Indeed, on announcing his four wildcards at the beginning of the month, Love said: "I made my picks based on pairings."
In making those decisions, Love and Olazabal will look to history. The United States captain's selection of Steve Stricker was a given, with Stricker having partnered Tiger Woods all through the 2010 Ryder Cup at Celtic Manor.
When Olazabal does his research, he will see that Rory McIlroy and Graeme McDowell were joined at the hip in south Wales, while Ian Poulter and Justin Rose were paired on three occasions four years ago at Valhalla.
The return of Sergio Garcia after missing Celtic Manor also gives Olazabal the option of resurrecting two of Europe's all-time most successful partnerships. Garcia and Luke Donald have won all four times they have played together, while the team of Garcia and Lee Westwood have taken 4½ points from a possible six.
"The partnerships that have been formed will probably stay formed," said Andrew Coltart, part of the Europe team that was beaten at Brookline in 1999. "The likes of McIlroy and McDowell, Rose and Poulter are likely to stay in shape.
"You might find Nicolas Colsaerts getting a gig with Westwood in fourballs, the old pro taking the rookie under his wing. Colsaerts makes a tremendous amount of birdies and so does Lee.
"Francesco Molinari and Donald would be a very good foursomes pairing, but they might sit out the fourballs.
"For the Americans, Stricker is in there to play with Woods, while you could see Dustin Johnson and Bubba Watson being an amazing fourball partnership.
"Keegan Bradley will play with Phil Mickelson because they get on well. Jim Furyk will blend with anybody and everybody, but he's more likely to play foursomes than fourballs."
Of course, while a captain will hope that his pairs are successful, success brings its problems.
Playing in all four sessions on the opening two days could lead to a player being fatigued for Sunday's final day, but a captain may be loathe to break up a partnership merely to ensure that all 12 of his team get time on the course before the vital singles.
In 1999, Coltart was one of three players who went unused as Europe built a 10-6 lead. All three men lost in the singles as the US pulled off the biggest comeback in Ryder Cup history, but the Scot does not believe it is crucial for all 12 players to feature before the finale.
"You get your best players out there and make sure you get as many points as you can before the singles," he said. "The idea of playing everyone is just for team harmony, just to try and keep some of the egos in check.
"My only concern is if guys are going to be fatigued on Sunday, you don't want to throw away a point because someone is tired for the singles. If partnerships are winning, to me you keep them intact."
After two days of juggling and matching his players, the captain will then order his players for Sunday's singles, knowing that this is where he has most influence and how he is most likely to be remembered.
Again this is not an exact science. America's Curtis Strange was pilloried in 2002 for leaving Mickelson and Woods until the final two matches, only for Europe to have already sealed victory by the time their matches drew to a close.
But Colin Montgomerie won praise two years ago for leaving McDowell for the finale and the US Open champion duly delivered, beating Hunter Mahan to regain the trophy for Europe.
"A captain also has to give himself enough time to weigh up his options, because there isn't much time after you finish on the Saturday night before the order for the singles has to be in," said Brown, a five-time Ryder Cup player.
"There is an element of thinking the tactics through. A captain should be doing that now, while he has got the opportunity, rather in that hour-and-a-bit on Saturday when the porridge is at its hottest.
"If you have a big lead you might play a bit more defensively, but perhaps it's a matter of getting your best players in action early and getting points on the board.
"The singles is the area where the captain can have most influence on the order, but there is still that element of chance."
There it is again - the element of chance.
A captain can select the right wildcards, create the correct partnerships, have the shiniest shoes and the best pressed shirt, but the man holding the Ryder Cup on Sunday will certainly have enjoyed a slice of luck along the way.