Rory McIlroy says Tiger Woods is not intimidated by him
Last updated on .From the section Golf52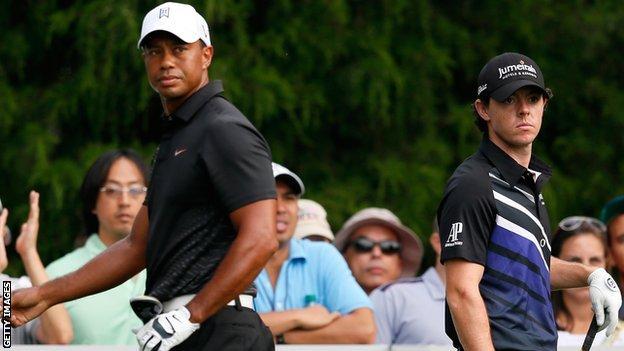 World number one Rory McIlroy has dismissed claims that he "intimidates" 14-time major winner Tiger Woods.
McIlroy was responding to comments from Australian Greg Norman on the eve of the PGA Tour Championship in Atlanta.
Norman, who won two Opens, had claimed: "Tiger's really intimidated by Rory. I think he knows his time is up."
But McIlroy said: "Tiger's the biggest thing ever in our sport. How could a 23-year-old from Northern Ireland with a few wins intimidate him?"
McIlroy, himself a two-time major winner, and world number two Woods are first and second respectively in the PGA Tour's FedEx Cup play-offs, with both knowing that victory this weekend will give the winner the $10m (£7m) bonus on offer.
In a separate interview with BBC Sport, McIlroy said: "I don't see how any of the guys on tour could be intimidated by me.
"Maybe if it was matchplay and you were beating someone head-to-head every week, but that's not the way it is."
American Woods, 36, also rejected Norman's claims, saying: "It's not like somebody is going to take your block off. This is a different kind of sport - we play our own game and see where it falls at the end of the day.
"In tennis you can do that [intimidate] because you are playing against somebody. Here nobody is affecting your shots."
The three other players occupying the top five places in the FedEx Cup standings, Nick Watney, Phil Mickelson and Brandt Snedeker, also control their own destiny.
But any of the 30-strong field, which includes Luke Donald, Lee Westwood, Justin Rose and Sergio Garcia, can win the FedEx Cup if the results of other players go their way.
"We play for a lot of money, for which we are very fortunate," said McIlroy, who has won three of his last four tournaments, including the US PGA in August.
"I would be disappointed to have played so well in the play-offs to then not finish it off. The money's nice, but I'm going to make plenty of money in my career so it doesn't really matter."
Woods ended his two-and-a-half-year wait for a PGA Tour title at the Arnold Palmer Invitational in April and followed that up with two more victories.
And, as McIlroy strengthened his grip at the top of the play-off standings with success at the last two events, Woods took third at the Duetsche Bank Championship and then tied for fourth at the BMW Championship.
"This has been a really good season," said Woods. "I'm now one of the better drivers - that's exciting for me - and my short game is starting to come around too, which is nice."