Ryder Cup 2012: Paul Lawrie targets European victory
Last updated on .From the section Golf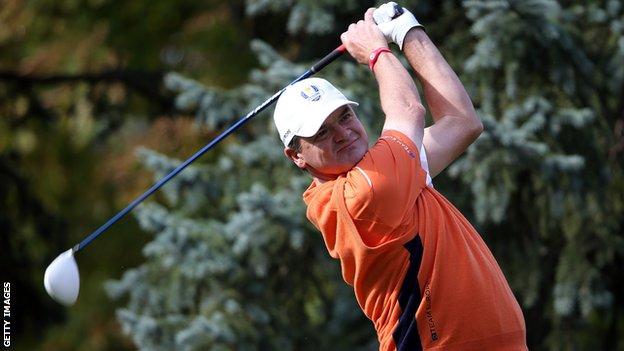 Paul Lawrie aims to help Europe win the Ryder Cup after realising his ambition to secure selection.
Lawrie, 43, is the only Scot in the event which gets under way at Medinah, near Chicago, on Friday.
"It (being selected in Ryder Cup team) was my main goal for the year and it's nice to reach it," said Lawrie.
"But, now that you're here, you want to make sure that you win. All the players want to win for Jose Olazabal so badly; he's such a great guy and pretty cool."
The 39th Ryder Cup opens with four alternate-shot foursomes matches and speculation suggests Lawrie may be paired with Sergio Garcia.
Lawrie is relaxed about who he plays with in the event.
"I will play with anybody in the team," he said. "I've not got a problem with anyone and I think my game suits anybody."
The US captain Davis Love III has sought to boost home advantage by cutting the rough, but Lawrie believes the Europeans will handle the conditions.
"It's not a problem," Lawrie said. "We've got plenty of guys on our team that hit it a long way.
"If the idea is to set the course up to suit their long hitters, we've got plenty of long hitters in our team too."
Seven of Europe's team have experience of playing in a Ryder Cup match away from home.
Meanwhile, Tiger Woods has vowed to make up for his past Ryder Cup disappointments by leading the US to victory.
The 14-time major winner has a losing record in the biennial competition and has finished on the winning side just once in six attempts.
"I didn't earn the points I was put out there for," said the world number two.
"Hopefully I can do that this week, and hopefully the other guys can do the same and we can get this rolling."
Friday, 28 September (all times BST)
23:59-02:00 - BBC Two & BBC HD channel - Highlights from Day One
Saturday 29 September
11:00-13:00 - BBC Two & BBC HD channel - Repeat of Day One highlights
23:59-02:00 - BBC Two & BBC HD channel - Highlights from Day Two
Sunday 30 September
14:00-16:00 - BBC Two & BBC HD channel - Repeat of Day Two highlights
23:00-01:00 - BBC Two & BBC HD channel - Highlights from Day Three
Monday 1 October
19:00-20:00 - BBC Two & BBC HD channel - Repeat of Day Three highlights