Ryder Cup 2012: Donald & Garcia set to resume pairing
Last updated on .From the section Golf14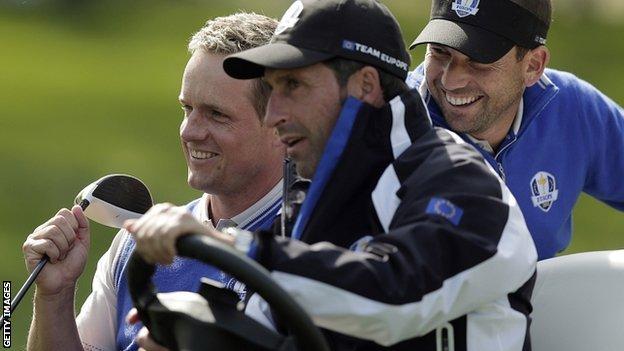 Luke Donald and Sergio Garcia look likely to resume their unbeaten foursomes partnership on the first morning of the Ryder Cup on Friday.
The European pair, who are unbeaten in four Ryder Cup foursomes matches, practised together on Wednesday.
Englishman Donald has six wins out of six in the alternate-shot format, while Garcia is unbeaten in nine matches.
Rory McIlroy and fellow Northern Irishman Graeme McDowell look set to rekindle their 2010 partnership.
World number one McIlroy and fellow former US Open champion McDowell scored 1½ points out of a possible three at Celtic Manor and were paired together for a second day in a row when the Europeans played foursomes over the front nine at Medinah outside Chicago.
Westwood, who combined with Donald to beat Ian Poulter and Justin Rose in fourball practice on Tuesday, switched to playing with Italian Francesco Molinari against Scot Paul Lawrie and Belgian debutant Nicolas Colsaerts.
In the first European group out on Wednesday, Poulter and Rose teamed up against Swede Peter Hanson and German Martin Kaymer.
Donald and Spaniard Garcia won twice together on the former's Ryder Cup debut in Detroit in 2004 and added two more victories two years later in Ireland.
World number three Donald also partnered Ian Poulter and Lee Westwood when Garcia was only an assistant captain in Wales two years ago.
And Donald hinted that he would also be rekindling his partnership with compatriot and world number four Westwood.
Donald, 34, said: "Lee is great off the tee. With his long game and my short game, if you put the two together we could have had a few more than zero majors between us.
"We obviously complement each other. Lee is a personality on a golf course - he's just very easy going and nothing bothers him. He exudes a lot of confidence, especially this week, and that rubs off well on me."
Garcia, meanwhile, has won eight of his nine foursomes matches since making his debut as a 19-year-old in 1999.
"I think it's quite simple - I just had great partners," he said. "They just carried me home.
"I don't know. I've managed to gel nicely with the partners I've had - we've played well together, we've been comfortable together.
"There's no big secret about it. It's being able to play well at the right moments - foursomes is the toughest format we play, so being comfortable with who you're playing I think is key."
The 32-year-old also finished second at Medinah at the 1999 US PGA Championship and third in 2006 and said the course was playing easier than it had in the past.
"Personally I liked it better in 1999," he said. "The course is playing different with pretty much no rough, so there's not a lot of thinking when you get onto the tee.
"You can pretty much hit it nice and hard, and even if you miss pretty much every time you'll have a shot."
The Europeans will only play nine holes again on Thursday to give them time to rest ahead of the opening ceremony (at 2200 BST) and Friday's foursomes.
"The reason behind it is that the boys had a good look at the course on Tuesday," Olazabal said. "It took them quite a while to play 18 holes and Wednesdays and Thursdays are quite busy apart from the golf.
"We have the gala dinner, we have the media interviews, we have the opening ceremony. I wanted the boys to take it easy.
"Friday 36 holes, Saturday 36 holes - a lot of pressure, a lot of tension."
Friday, 28 September (all times BST)
23:59-02:00 - BBC Two & BBC HD channel - Highlights from Day One
Saturday 29 September
11:00-13:00 - BBC Two & BBC HD channel - Repeat of Day One highlights
23:59-02:00 - BBC Two & BBC HD channel - Highlights from Day Two
Sunday 30 September
14:00-16:00 - BBC Two & BBC HD channel - Repeat of Day Two highlights
23:00-01:00 - BBC Two & BBC HD channel - Highlights from Day Three
Monday 1 October
19:00-20:00 - BBC Two & BBC HD channel - Repeat of Day Three highlights