Ryder Cup 2012: McIlroy & McDowell to launch Europe's bid

By Tom Fordyce
Chief sports writer at Medinah
Last updated on .From the section Golf51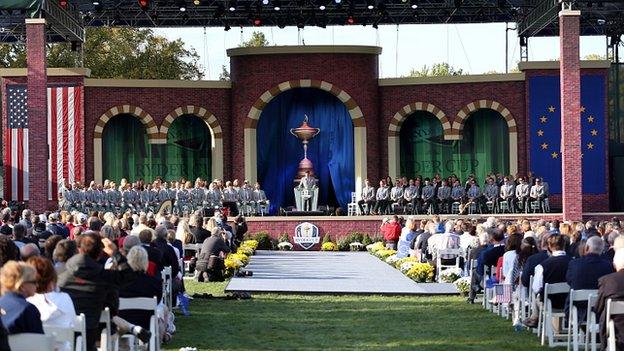 Rory McIlroy and Graeme McDowell will begin Europe's defence when the 39th Ryder Cup begins at Medinah on Friday.
The Northern Irishmen will kick off the foursomes matches at 07:20 (13:20 BST) against Jim Furyk and Brandt Snedeker.
Luke Donald and Sergio Garcia resume their unbeaten partnership against Phil Mickelson and Keegan Bradley.
Lee Westwood and Francesco Molinari take on Jason Dufner and Zach Johnson, while Ian Poulter and Justin Rose face Tiger Woods and Steve Stricker.
The one slight surprise for Europe was that Italy's Molinari was paired with Westwood, but Europe captain Jose Maria Olazabal defended his decision.
"It might surprise you, but when you look at Francesco's game, he's a steady player," said Olazabal, who played in seven Ryder Cups.
"He's straight off the tee, he hits good iron shots. When I look at foursomes, I want to have players who are consistent and are steady from tee to green."
The European side have won four of the last five Ryder Cups and six of the last eight against the USA, including two years ago in Wales, when the score was 14½-13½.
US captain Davis Love said Snedeker's fine recent form had been a key factor in sending him out first, despite this being his maiden Ryder Cup.
"We wanted to get Brandt going - Brandt likes to get out there and get after it," said Love, who played in six Ryder Cups.
"Phil and Keegan are a little bit excited to be playing, too, so get them going. And then we've got some pretty cool customers at the end that can handle whatever happens in the last two matches."
Olazabal's team will be marginal underdogs over the long fairways and fast greens of Medinah Country Club, 20 miles west of Chicago.
Love has promised "fired-up" crowds over the three-day contest, with 40,000 expected to throng the course each day for what promises to be one of the closest ever Ryder Cups.
The USA's sole success this century came at Valhalla four years ago and Love will lean heavily on the experience of 14-time major winner Woods, Mickelson and Furyk as he attempts to steer a team containing four debutants to victory.
Olazabal hopes to inspire his side with the memory of his late friend and team-mate Seve Ballesteros, who helped reinvigorate a previously US-dominated contest with a succession of European wins in the 1980s and 1990s.
Ballesteros died last year but his image is emblazoned on his successors' bags, and his iconic outfit of navy trousers and jumper and white polo shirt will be worn by the team over the weekend.
"What I learnt from Seve was no quitting, to face adversity and more than anything I learnt what true passion is all about. Seve, we miss you," said Olazabal in his speech at the lavish Opening Ceremony.
With just one rookie - Belgian Nicolas Colsaerts - in their ranks, the European side are the more experienced of the two, and Olazabal will hope that his team can get off to the sort of start to silence the partisan home crowds.
The 23-year-old McIlroy, ranked number one in the world, has won three times in his last five events - including his second major, a remarkable eight-shot victory at the US PGA Championship.
McIlroy and McDowell will rekindle their 2010 partnership, when they scored one-and-a-half points out of a possible three at Celtic Manor.
McIlroy said: "I can't wait. Leading the side off we are going to go out there and get the blue on the board early.
"To be honest they are not the opponents we were expecting. We know that their team is so strong all the way through, but it was a little surprise to see a rookie in their first group."
Donald and Garcia have won all four of the previous Ryder Cup foursomes matches they have played together, while Westwood, making his eighth appearance, will team up with Molinari in his second Ryder Cup against US rookie Dufner and Zach Johnson.
Englishmen Poulter and Rose won two-and-a-half points from their three matches at Valhalla four years ago, but face world number two Woods and Stricker, who won two of their three matches together in Wales.
Woods said: "'Strick' and I are very comfortable together. Our captain said that would be a good fit and he wanted us out there to anchor."
As always the build-up this week has featured some tongue-in-cheek comments from players on both sides, Snedeker leading the way with: "I'm going to try to beat their brains in as bad as I can."
It is something of a phoney war - the majority of players are good friends off the course - but when play gets under way on Friday, the atmosphere will be as fiery as anything sport can produce.
Friday, 28 September (all times BST)
23:59-02:00 - BBC Two & BBC HD channel - Highlights from Day One
Saturday 29 September
11:00-13:00 - BBC Two & BBC HD channel - Repeat of Day One highlights
23:59-02:00 - BBC Two & BBC HD channel - Highlights from Day Two
Sunday 30 September
14:00-16:00 - BBC Two & BBC HD channel - Repeat of Day Two highlights
23:00-01:00 - BBC Two & BBC HD channel - Highlights from Day Three
Monday 1 October
19:00-20:00 - BBC Two & BBC HD channel - Repeat of Day Three highlights