Ryder Cup 2012: 10 key questions to the Medinah match-up

By Tom Fordyce
Chief sports writer at Medinah
Last updated on .From the section Golf42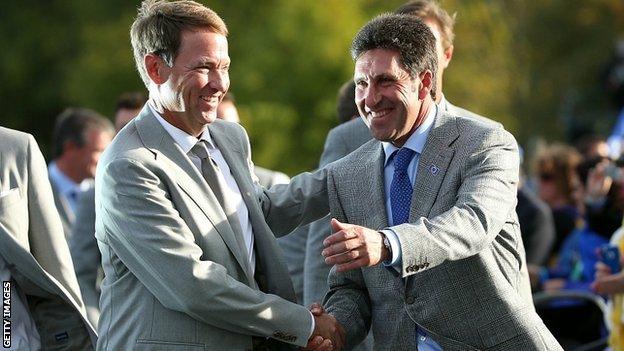 Twenty four players, two continents, three days of electrifying golf. Here are the 10 key questions on the 39th Ryder Cup.
Which team will start as favourites?
Marginally, the US. The bookies have the home side at a best price of 7/10 for an outright win, with Europe back at 19/10.
The US team have won 25 majors between them to Europe's five, have the advantage of playing at home and also have more players in better form than the visitors.
Against that, the European team have won four of the last five and six of the last eight Ryder Cups. They also have four of the top five players in the world - Rory McIlroy, Luke Donald, Lee Westwood and Justin Rose - although when that situation was reversed two years ago at Celtic Manor, it didn't do the US much good.
What of the course at Medinah?
Tiger Woods has won two of his 14 majors here, seeing off Sergio Garcia in 1999 and Luke Donald in 2006, but the number three course at Medinah has been tweaked in both length and style since then.
At 7,648 yards it is long, and with US captain Davis Love III requesting rough be kept to a minimum, it favours big-hitters and birdie-chasers.
But both teams have those; Donald and Lee Westwood shot a better-ball 59 in their very first practice round this week.
"This is not a golf course that either side is particularly used to," says Westwood. "I can't see how it suits one side or another."
How noisy and aggressive will the crowd be?
"The fans are going to be fired up," warned Captain Love. "The first tee could be the loudest any of these guys have ever seen."
So far, so Ryder Cup. These ding-dongs are always raucous affairs, and in a city as sport-obsessed as Chicago, on warm autumn days when the cold beer flows fast, we should expect an atmosphere from the 40,000 packed in each day as spicy as anything since Brookline in 1999.
Whether that need be a problem for the European team is another matter. McIlroy has been greeted like a home-town hero everywhere he has gone this week, while Paul Lawrie charmed spectators around the 17th green on Thursday by letting a seven-year-old boy take his putt during his final practice round.
"I would expect them to be very vocal," says Ian Poulter. "But for me it adds to the electricity and the adrenaline rush. I can't wait to be part of the fun."
How fiery will the rivalry between the two teams get?
Believe the tabloid headlines and you would imagine the two continents were at war.
"I'm going to try to beat their brains in as bad as I can," said Brandt Snedeker.
"There's something about the Ryder Cup that intrigues me," said Poulter. "You can be great mates with somebody but, boy, do you want to kill them in Ryder Cup."
Neither man intended to be taken literally. These two groups of players know each other intimately. Many are good friends off the course; others are neighbours.
"We're not trying to disrespect any other player," explains Bubba Watson. "It's just for the love of that little trophy that we want to win.
"If you ran in someone's face and said 'I just beat you' it might be a little over the top. But this really isn't a dislike for the other team. We don't look at who it is we're trying to beat - we just want to win it."
Which captain is handling the pressure better?
Both US captain Love and Europe's Jose Maria Olazabal are attempting to give the impression of being in complete calm control of all they do.
The Spaniard had slightly the better record as a player - he won three Ryder Cups, lost three and tied one, while Love won two and lost four - and in the phoney war this week has once again come out on top.
Love has at times seemed slightly overwhelmed, crying in a news conference when telling assembled journalists how much he loved his team and then embarking on surreal soliloquies about "ping-pong" and the gifts he intended to give the players.
"You know I'm going to have to give them something they can get hurt with," he said on Wednesday.
For his part Olazabal is leaning heavily on the inspirational memory of his old friend and Ryder Cup team-mate Seve Ballesteros, inscribing his silhouette on his players' bags and reportedly kitting his team out in classic Seve colours for Sunday's singles.
How critical their influence will be is another matter.
"I would say it is very difficult for a captain to have a ­significant effect on you winning a Ryder Cup," says Westwood. "But they can have a significant effect on you losing it."
Are the big stars ready to deliver?
Tiger Woods might have won 13 majors since his Ryder Cup debut in 1997, but he's been on the winning side just once. This week, clear favourite with the bookies to be highest scoring US golfer, he has vowed to start putting that right.
So too has four-time major winner Phil Mickelson, making a record-breaking ninth appearance in the Cup but a winner just twice before and with an overall losing record in matches of 11-17.
Woods has identified world number one McIlroy as the European player to target, but the 23-year-old has attempted to wriggle off that particular hook this week.
"I don't think I have a bullseye on my back," says McIlroy, who won just one of his four matches at Celtic Manor two years ago. "This week I'm not the number one player in the world, I'm one player in a 12-man team."
Who are likely to be the unheralded stars?
Every Ryder Cup throws up a surprise hero from the ranks of footsoldiers - a Phillip Walton, Eamonn Darcy or Christy O'Connor Jnr - who produces a vital shot or point that proves critical in the final analysis.
That man for Europe this time around may be Nicolas Colsaerts, the first Belgian to ever make a Ryder Cup team and someone who was outside the world top 1,000 just three years ago.
Colsaerts' big game off the tee is ideally suited to the length and lack of punishing rough at Medinah, while he proved his credentials in this format of the game in winning the Volvo World Match Championship in Malaga earlier this year.
Brandt Snedeker is no unknown in the US with three PGA Tour wins to his name. But as a Ryder Cup rookie who made the team as one of Love's captain's picks he is the form man on either side, having just won the $10 million Fed-Ex Cup. His fine short game should prove priceless in a competition usually decided on putts.
How do Friday's foursomes pairings match up?
Europe's opening pairing of McIlroy and McDowell - who landed one-and-a-half points out of a possible three at Celtic Manor - will fancy their chances against veteran Jim Furyk and Snedeker in the first match out.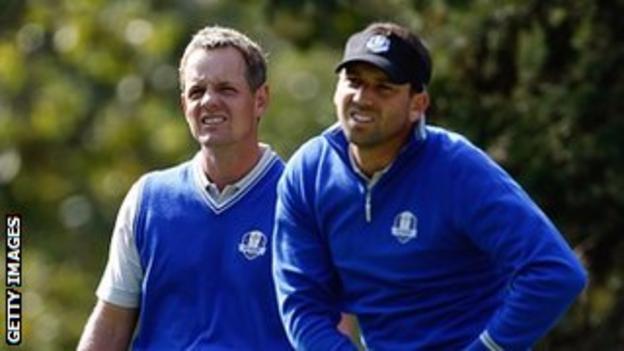 Olazabal's decision to pair Luke Donald and Sergio Garcia was a no-brainer; they have won all four of the previous Ryder Cup foursomes matches they have played together, and Garcia calls the Englishman his "best friend on Tour". Love will be relying on Mickelson to steer debutant Keegan Bradley through the first-morning madness.
Despite Olazabal insisting otherwise, there will be some surprise that he has paired Westwood with Francesco Molinari. Neither is renowned for their putting, although neither are their opponents invincible. While Zach Johnson beat the Italian on the 18th green of their singles match two years ago he has lost two of his previous three foursomes, and Jason Dufner is untested in this competition.
It is the final match of the morning that is the pick: Poulter and Rose, winners of two-and-a-half points from their three matches at Valhalla four years ago, up against the equally proven partnership of Woods and Stricker, who won two of their three matches together in Wales.
"Strick and I very comfortable together," says Woods, who in Sean Foley shares a coach with Rose and a neighbourhood in Florida with both Britons.
"Our captain said he wanted us to anchor, and we've got a great match-up in Rosey and Poults."
Which are likely to be the critical holes?
There is a lot of water at Medinah, and with holes two and 13 both requiring precision tee-shots across Lake Kadijah, significant opportunity to follow Sam Snead's unhappy example at the 1949 US Open here and toss the contest away into the wet stuff.
But Ryder Cups are won and lost down the stretch, and Medinah is no different.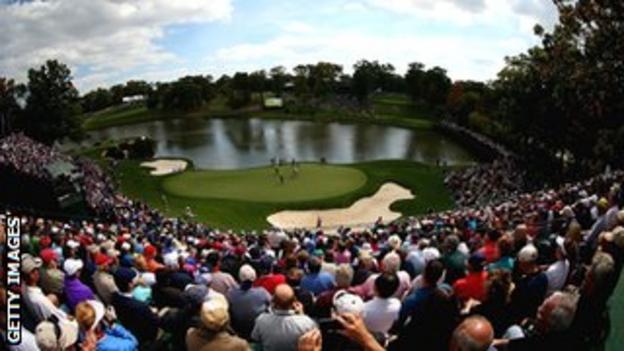 The 391-yard par-four 15th is likely to have its tee moved forward to tempt the big drivers into going for the green, a classic risk-reward dilemma that could see eagles and birdies to change a match.
The 16th is a testing 482-yard dogleg left par four, while the short 17th - 193 yards back across the water from an elevated tee to the narrowest of sloping greens, spectators piled high all around its natural amphitheatre - will be a bear-pit come Sunday's singles.
Which side has the better team spirit?
Olazabal may have flown in from Europe with just three of his players (the rest were either playing in the US or resident here) but with just one debutant has a team that both know each other and are comfortable working together.
In the past American teams have not always seemed to enjoy either the contest or each other's company to the same extent. Mickelson insists that is not only inaccurate this time around but in the defeats of the recent past.
"I think that's a misperception," he says. "One of the most fun weeks we've ever had was in '06 with Tom Lehman as a captain. He was a phenomenal captain and we played extremely poor, but that had nothing to do with leadership; just the fact that we didn't play well."
When Love was a player it was Pass the Pigs and Jenga in the US team-room. He hopes that this week's "full contact" games of table-tennis prove rather more inspiring.
How are Sunday's singles matches likely to stack up?
This is where the captains will earn critical corn. To load your big names up top in the hope that you win precious momentum? Where to place the inexperienced and out of form? Who to keep back till the death in case the contest goes down to the wire?
Two years ago Colin Montgomerie gambled on keeping McDowell until the final match and was rewarded as the former US Open champion secured the winning point on the 17th green. Olazabal, vice-captain on that occasion, may well be tempted to do the same.
Neither captain has revealed their hand this time around. But there is one match-up the golfing public would love to see more than any other: Woods v McIlroy, the dominant player of the last 15 years against the young pretender, the recent past against the probable future.
It would require rare chance for it to happen. But it just might.
Friday, 28 September (all times BST)
23:59-02:00 - BBC Two & BBC HD channel - Highlights from Day One
Saturday 29 September
11:00-13:00 - BBC Two & BBC HD channel - Repeat of Day One highlights
23:59-02:00 - BBC Two & BBC HD channel - Highlights from Day Two
Sunday 30 September
14:00-16:00 - BBC Two & BBC HD channel - Repeat of Day Two highlights
23:00-01:00 - BBC Two & BBC HD channel - Highlights from Day Three
Monday 1 October
19:00-20:00 - BBC Two & BBC HD channel - Repeat of Day Three highlights