Europe bullish despite first-day deficit

By Tom Fordyce
Chief sports writer at Medinah
Last updated on .From the section Golf35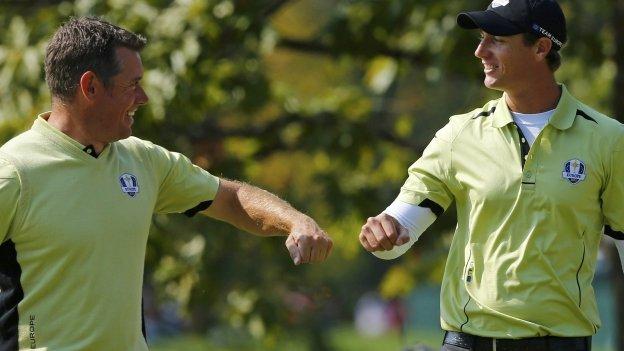 First, the good news for Europe's golfers: while the US lead this 39th Ryder Cup 5-3 after the first day, so too were they in front at the same stage in 1985, 1995 and 2010. They would go on to lose all three.
Now the questions. Can today's 12 players turn this one around too? What will have to change for them to do so? And did captain Jose Maria Olazabal make a critical error in his pairings on Friday?
The last of those first. While the selections for the morning foursomes all made logical sporting sense, the glaring omission from the afternoon's fourballs was Ian Poulter - bang in form from his victory with Justin Rose over Tiger Woods and Steve Stricker, hot with his putter on these glassy Medinah greens, a man who relishes the Ryder Cup ding-dong like few others.
As the momentum turned decisively against the visitors in the afternoon, the US winning three of the four points on offer and coming within a few blades of grass of halving the other, there was a noticeable lack of on-course leadership from the eight European players - no figurehead around which to rally, no street brawler to stem the red tide.
Poulter himself insisted that he had no problem with sitting out the afternoon. "I would have loved to have played five matches, but I realise we are a team, and that team is very, very strong this year.
"Ollie [Olazabal] really wanted to get everyone playing on Friday, so four guys have to change from the morning round, and that's obviously going to be difficult. He said he would like to keep me fresh."
But Poulter also revealed that Olazabal had made his decision on Thursday afternoon, therefore not taking his players' disparate form in the morning's foursomes into account. Would it not have made more sense to bench Poulter for Saturday afternoon's foursomes, thus giving him almost a day's rest before the pivotal Sunday singles?
"The issue for the captain is that he has to hand over his pairings for the afternoon fourballs before the morning foursomes have finished," says Bernard Gallacher, veteran of 22 Ryder Cups as player, captain and spectator and here in Chicago as an expert analyst for BBC 5 Live.
"Olazabal will have had a plan coming into Friday, and part of that plan was to make sure everyone played on the first day. He saw nothing in this morning's play to alter that plan.
"While the morning finished 2-2, it looked at one stage like it might be 4-0 to Europe. So he will have thought, okay - I'm going to rest Luke Donald, Sergio Garcia and Poulter.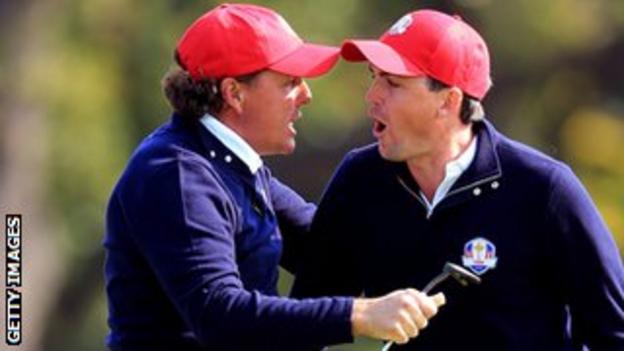 "I don't think you can look back with hindsight. The Americans played brilliantly in the afternoon. The first pair of Bubba Watson and Webb Simpson hit more birdies on the front nine than have ever been hit before in Ryder Cup golf.
"The US have had a great day, and Europe have not. So for the US to have just a two-point lead is actually quite a good result for Europe."
Leading the US charge, somewhat unexpectedly, were their untried rookies.
Keegan Bradley, in a perfectly-fitting partnership with Phil Mickelson, became the first debutant since Sergio Garcia in 1999 to win both of his opening two Ryder Cup matches.
Bradley had been taken to Brookline in 1999 as a 13-year-old and sat on his father's shoulders as the US charged through on the final day to secure a famous win. Inspired by that memory he was unstoppable in both morning and afternoon.
Simpson was a putting machine, while Jason Dufner cantered to fourballs victory over Justin Rose and Martin Kaymer in partnership with Dustin Johnson.
1991 US captain Dave Stockton, veteran of Kiawah Island's 'War on the Shore', had an interesting theory for that. "A lot of the veterans have scar tissue," he said, "particularly in the American team. The rookies don't have the negative feelings."
Gallacher had another. "The US might have most rookies (four to Europe's one) but there are rookies of different sorts. One is a US PGA champion and another is a US Open champion. While they are new to Ryder Cup, they are hardly inexperienced or unproven."
Olazabal made special mention afterwards of his own rookie, Belgium's Nicolas Colsaerts, who conjured up what Woods described as "one of the greatest putting rounds I've ever seen" to almost singlehandedly secure Europe their only point of the afternoon.
Not content with producing the round of the day, the Belgian then followed it with quote of the day.
"I've never had so much fun and I want to have more," he said. "There are no tools you can use out there. You've just got go with what you have in your pants."
"Colsaerts was exceptional," says Gallacher. "He clearly likes the Ryder Cup. The format suits him, the excitement suits him.
"It was critical that Colsaerts and Westwood hung on to that point. It was only one point, but it was a huge point."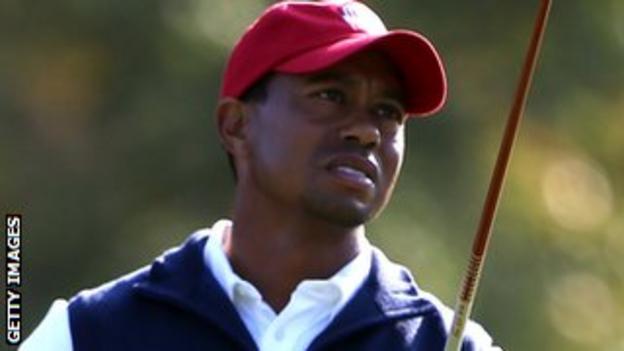 While the 29-year-old's team-mates in the afternoon could not match his stellar deeds, there were some undeniable extenuating circumstances.
The new US pairings, to the great credit of captain Davis Love III, blended brilliantly. Mickelson is in his ninth Ryder Cup and has never before won two matches on the same day, but in playing the wise-cracking old sergeant to Bradley's gung-ho new recruit he was a player reborn.
Then there is plain old form. While Lee Westwood and Martin Kaymer struggled throughout, Watson and Simpson simply blitzed their way into the lead and never looked back.
As Peter Hanson admitted afterwards, "The birdie train left, and we just couldn't jump on."
Their 5&4 victory over Hanson and Paul Lawrie was the largest margin of victory for the US in a team match since 1995, a decisive move in momentum at a pivotal time.
Even the struggles of Woods should be put in context. While he lost both his foursome and fourball matches, he also began the 1999, 2002 and 2004 Ryder Cups with two defeats on the first day.
His seven birdies in the afternoon suggested that he is not yet done in this contest, even if Love has opted to rest him from Saturday morning's foursomes.
So what would Olazabal say to his troops in the team-room on Friday night and Saturday morning? How could he inspire them to greater heights than Friday's?
"He will just march in there and say, okay the US have had a great day, but we're still in it," says Gallacher. "'Let's go out tomorrow with a warrior spirit and put ourselves back in the match'.
"The US players do seem to come out of the blocks faster than us Europeans. It's always been the same in Ryder Cup. But if you can just hang onto them over the first four or five holes, you can start to inflict some damage.
"At one stage during Friday's fourballs McIlroy and McDowell were four shots down on Mickelson and Bradley. But they clawed it back to two shots, and had Mickelson not hit that miraculous tee-shot on the 17th they might even have stolen a half."
"There's a long way to go in this tournament," insisted Justin Rose. "There are ebbs and flows. Obviously there's momentum for the US right now, but that could all swing back in our favour.
"In Wales the Europeans lost every session except one, so there is a lot of golf to be played."
His captain was equally bullish. "I'm going to make it clear to the boys that they need to step it up.
"There are no secrets to this game. You have to make more birdies than your opponent. And if you don't do that, you are going to struggle."