Ryder Cup 2012: Paul Lawrie savours dramatic victory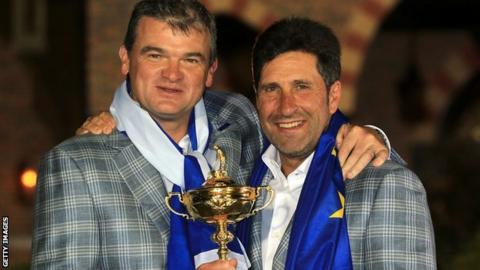 Scotland's Paul Lawrie described helping Europe to a dramatic Ryder Cup victory as "awesome".
The Scot won his singles match against Brandt Snedeker 5&3 on an incredible day at Medinah.
"It feels pretty awesome, to be fair," Lawrie told BBC Scotland.
"I'm proud of every person in the team and pretty proud of myself to go out and perform like that under the utmost pressure against a tough crowd."
The United States required only four-and-a-half points from the 12 on offer, but the Europeans secured eight and a half to clinch a historic 14½-13½ win.
Victory against Snedeker in the singles left Lawrie with his first win after two losses in Medinah in the foursomes and fourballs.
And Lawrie said some harsh words from European captain Jose Maria Olazabal following a poor display on the first day's play had a galvanising effect.
"Jose made sure that every person in that room knew that he believed, not only that we could tie, but we could win," said Lawrie.
"When someone like Jose, with the record he had as a player in the Ryder Cup with Seve, tells you he believes in you, then it's pretty hard to wake up and not feel pretty good about yourself.
"Ian Poulter was huge - five birdies in a row to finish on Saturday. You don't realise how good that is when the crowd is tough.
"Every single person wanted to play early and that was huge. Everyone wanted to be out there putting their neck on the line and get some points back.
"(The feeling was) if you're going to win this, win it early. If you lose two or three of the first five games then you're dead; there's no way you can come back from that.
"We had to win the first four or five. To be put out at number five, I got a huge lift from that there's no question. I played lovely and was six under par against a guy who won the Fed Ex last week.
"I'm proud of every person in the team and pretty proud of myself to go out and perform like that under the utmost pressure against a tough crowd."
Lawrie said Olazabal had told the European players on Friday night, in no uncertain terms, that they had to raise their game.
"He was upset; he kind of let us know that he didn't think we were doing ourselves justice and Friday night was a big meeting.
"For him to be upset with us, he wasn't happy with what was happening and felt we needed to make more birdies and give it more as a team.
"He's just got so much passion as a person and a Spaniard. With what this tournament means to him, he was disappointed to be behind on Friday night and he let that be known."
Lawrie said there was added poignancy to the Ryder Cup victory, as the anniversary approaches of the death of his friend and former coach Adam Hunter.
"I think of Adam every day to be fair, not just this week," he added. "But he would've been proud of what I achieved, there's no question about that.
"To be six under par against a player of that quality. He would've loved it, absolutely loved it and I'm sure he's looking down pretty proud tonight."