Sporting comebacks to rival the Ryder Cup's Miracle of Medinah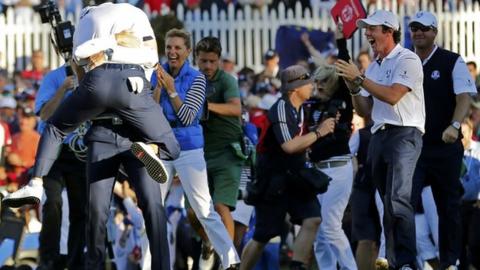 Europe's miracle at Medinah was not only one of the most remarkable comebacks in Ryder Cup history, but one of the most astonishing feats in sport.
Europe's 14½-13½ victory matched the record fightback achieved by Ben Crenshaw's US team in Boston in 1999 when they overhauled a four-point deficit, and is the best from a European side in the competition.
In no particular order, BBC Sport looks at other sporting comebacks to rival that achieved by Jose Maria Olazabal and his men.
Liverpool v AC Milan, 2005 Champions League final
Liverpool trudged off the pitch at half-time trailing 3-0 and having to experience the ignominy of listening to jubilant Milan players celebrating in the other dressing room.
"Half-time offered us just 15 minutes to convince them that there was hope, however distant, that there was a chance, however slim," recalled the then Liverpool manager Rafael Benitez.
The Spaniard brought on defensive midfielder Dietmar Hamann, allowing Steven Gerrard to rampage through the midfield, and 11 minutes into the second half the Merseysiders were level.
Captain Gerrard headed John Arne Riise's cross for the first and Vladimir Smicer got the second with a low swerving shot which squeezed beyond goalkeeper Dida.
Xabi Alonso equalised after the indomitable Gerrard earned the underdogs a penalty, and after 120 minutes the European Cup was to be decided by a nerve-jangling penalty shoot-out in Istanbul.
Goalkeeper Jerzy Dudek's 'dance of distraction' - in honour of Bruce Grobbelaar's jelly-legged performance in the 1984 final - helped him save from Andrea Pirlo and Andriy Shevchenko.
Liverpool secured the trophy for a fifth time and left Benitez admitting his team had won "when all seemed lost".
USA v Europe, 1999 Ryder Cup at Brookline
"I'm a big believer in fate. I have a good feeling. That's all I'm gonna say," said Ryder Cup captain Ben Crenshaw ahead of the final day at The Country Club in Brookline, Massachusetts.
America trailed 10-6 and needed to produce the biggest comeback in the event's history, an improbable feat despite the backing of a frenzied patriotic crowd and an address with a reading from the Battle of the Alamo from the then Texas governor George W Bush.
"Let's go out and kill them," shouted a combative David Duval as he stormed out of the locker room after listening to Bush's words.
Duval and his team-mates went on to destroy the Europeans in the Battle of Brookline, winning the first six singles matches and forcing the visitors to surrender when Jose Maria Olazabal failed to respond to Justin Leonard's 45ft birdie on the 17th.
France v New Zealand, 1999 Rugby World Cup semi-final
In the pre-match build-up, New Zealand outside-half Andrew Mehrtens had described Les Bleus as "predictably unpredictable" and so they proved to be at Twickenham as France roused themselves into an astonishing second-half fightback.
France, often with the ability to confound and mesmerise in equal measure, trailed 24-10 early in the second half and the tournament favourites looked comfortable, especially with Jonah Lomu - scorer of two tries - causing mayhem.
But in 30 jaw-dropping minutes Christophe Lamaison, who ended the match with 28 points, scored a try, kicked two drop goals and two penalties to close the gap to 24-22.
The tide had turned. And France, buoyant and displaying their trademark flair and skill, scored three more tries, including the now famous one by Christophe Dominici, to inflict a remarkable 43-31 defeat on Lomu and co.
England v Australia, Headingley 1981
Australia were on the verge of wrapping up an easy victory within four days, to go 2-0 up in the Ashes. But then Ian Botham strode onto the crease.
The Englishman, who had just resigned the captaincy, hit a gung-ho unbeaten 149 runs to at least make Australia bat again. And an inspired Bob Willis, deemed by some to be over the hill, swept through the visitors' line-up to end with 8-43.
Botham and Willis helped seal a remarkable 18-run victory - the second time in the history of Test cricket that a side following-on had won. England went on to win the Ashes 3-1.
Steffi Graf v Jana Novotna, 1993 Wimbledon final
Steffi Graf seemed down and out. Novotna led 6-7 6-1 4-1 and, at 40-30 in the sixth game of the deciding set, had a service point for a 5-1 lead over the German.
But, with victory within grasp, the Czech double faulted for only the third time in the match and quickly disintegrated. Within 10 minutes Graf had won a third consecutive Wimbledon title 7-6 1-6 6-4.
Novotna wept uncontrollably on the Duchess of Kent's shoulder during the presentation ceremony in one of the enduring images in the competition's history.
"With the way Jana was playing and the way I was playing, yes, I'd kind of lost it," said Graf afterwards. "I didn't give up but I didn't have a very positive feeling."
Red Rum v Crisp, 1973 Grand National
Crisp, the great Australian chaser, and Red Rum, trained a few miles away in Southport by a former taxi driver called Ginger McCain, were joint-favourites at the start of this gruelling four-mile race.
In the commentary box, an astounded Julian Wilson claimed: "I can't remember a horse so far ahead in the Grand National at this stage," when Crisp, carrying 23lb more than Red Rum, was 25 lengths clear at the Chair.
Then, at Becher's Brook, fallen jockey David Nicholson allegedly shouted to Crisp's jockey Richard Pitman: "You're 33 lengths clear, kick on and you'll win."
Crisp led by 20 lengths at the penultimate fence but Red Rum was gaining with every stride, eventually outsprinting Crisp to the line to win by three quarters of a length and breaking the course record by 19 seconds.
Stephen Hendry v Jimmy White, 1992 World Snooker Championship final
Jimmy White, nicknamed the whirlwind and dubbed the people's champion, looked set to win his first world title after storming to a 14-8 lead at the Crucible.
"Surely he's going to win it now," whispered BBC commentator Clive Everton to his audience when crowd favourite White was six frames ahead.
But the ruthless Hendry, the sport's youngest world champion after his victory over White in the 1990 final, went on to secure 10 successive frames, including three centuries, to clinch his second world title.
Muhammad Ali v George Foreman, 1974 Rumble in the Jungle
At the age of 32, Ali's speed of foot and hand was not what it once was. His opponent, world champion Foreman, was six years younger and unbeaten in 40 fights, with only three of those bouts having gone the distance.
Many of Ali's biggest fans feared for his health and in the second round the former champion deployed the tactic of standing on the ropes while Foreman threw hooks to his body and head.
By the sixth round Foreman was looking arm weary and during the final 30 seconds of round eight Ali launched a cunning counter-attack, firing a right hand at Foreman's jaw which sent the champion sprawling.