Rory McIlroy and Tiger Woods to battle in world final
Last updated on .From the section Golf28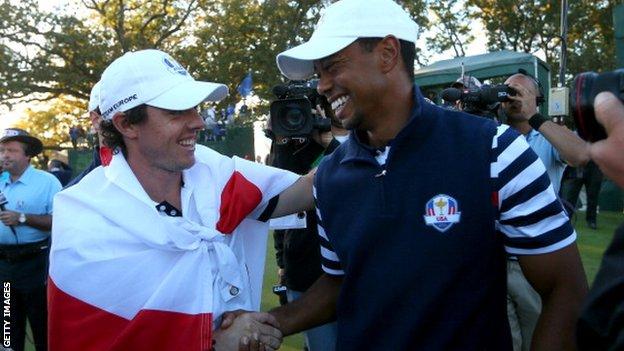 Rory McIlroy and Tiger Woods are set to face each other at this week's Turkish Airlines World Golf Final.
World number one McIlroy and 14-time major winner Woods, the world number two, have been drawn in the same group.
It means the world's top two players will play each other at least once in the new £3.2m eight-man event.
Charl Schwartzel and Matt Kuchar complete Group One, with Lee Westwood, Justin Rose, Hunter Mahan and US Open champion Webb Simpson in Group Two.
Head-to-head matches will be played in a medal matchplay format, with the lowest strokeplay score over 18 holes winning a point.
The winner of Group One will face the runner-up of Group Two, and vice versa, in Thursday's semi-finals with two players contesting a £935,000 first prize in Friday's final.
McIlroy and Woods will not face each other until the final game on Wednesday, by which time they could be through to the semi-finals.
"It's something I am looking forward to," said McIlroy. "Tiger has been a hero of mine growing up so to compete against him is a dream come true.
"This will be the first match we have had head-to-head and it's a match I would really like to win."
The 23-year-old, who almost missed the start of his Ryder Cup singles match after a time mix-up at Medinah, added: "I haven't touched a club since the Ryder Cup so I am going to get to the course a little early tomorrow [Tuesday] to hit a few balls and see if it's still there.
"And I will make sure I am in the right time zone."
Woods, meanwhile, says he has apologised to the four rookies on the US Ryder Cup team for not winning a single point as the home side squandered a 10-6 lead going into the singles to lose 13½-14½.
"It didn't set in for me for a few days as to what happened in Medinah," said Woods, who has won 15 and lost 17 of his 35 Ryder Cup matches.
"I had two sick kids I had to care for and they also had to go to school. They had fevers and I was focused on them for a couple of days.
"I then started to talk to my friends and team-mates, and once it all started to sink in - and the position we had been in and what transpired - yes, it was tough for a couple of days."
The World Golf Final is not an official event on either the European or US PGA Tours.