Rory McIlroy must beat Tiger Woods to retain semi-final hopes
Last updated on .From the section Golf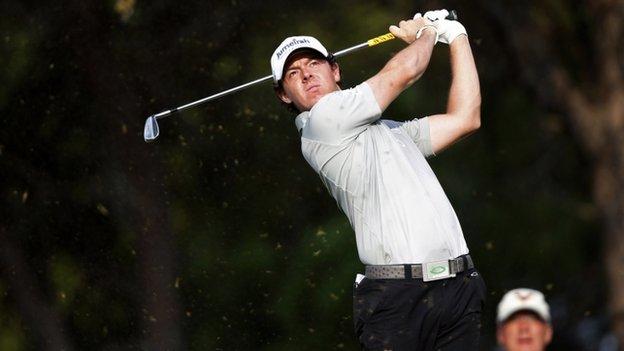 World number one Rory McIlroy still has faint hopes of qualifying for the semi-finals of the World Golf Final in Turkey but needs to beat Tiger Woods.
McIlroy lost his second match of the tournament to South Africa's Charl Schwartzel on Wednesday before thunderstorms stopped play.
But a win over Woods on Thursday could see the Northern Irishman go through as the lowest aggregate scorer.
Woods beat Matt Kuchar by five shots in his match on Wednesday.
The 14-time major champion had lost to Schwartzel on Tuesday while McIlroy was beaten by Kuchar but wins for Schwartzel over Kuchar and McIlroy over Woods on Thursday would see Schwartzel through to the semi-finals on three points with McIlroy, Woods and Kuchar all on one point.
The lowest aggregate score for each player's three matches would then be used to break the tie, with one player joining Schwartzel in the last four.
McIlroy chipped in for a birdie on the final hole of his match with Schwartzel, only to see the former Masters champion follow him in from 12ft for a one-shot win. Afterwards, McIlroy seemed unaware that he could still qualify for the last four, albeit with other matches and scores going in his favour.
"It looks like I'll get to spend a day on the beach tomorrow, which will be nice," said McIlroy, who has girlfriend Caroline Wozniacki with him in Antalya.
"It was actually a decent match. I felt like I played a bit better, had plenty of chances and just didn't really hole much. I got off to a better start and Charl played solid and then birdied three of the last four so I couldn't really do much about that."
As for his match with Woods, which had been scheduled for Wednesday, McIlroy added: "I'll try and keep him out of those semi-finals. I'm sure that's not what the tournament wants but it's what I'm going to try to do."
In Group Two, Justin Rose is top with two points after beating Lee Westwood (66 to 69), with Webb Simpson joining Westwood on one point after beating Hunter Mahan.
Rose faces Simpson and Westwood takes on Mahan in the remaining matches.