Rory McIlroy defends decision to miss WGC Champions
Last updated on .From the section Golf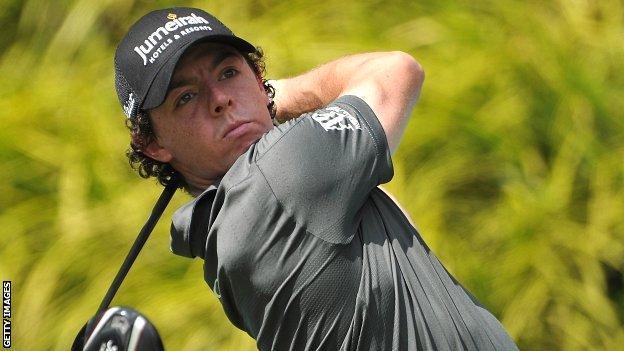 Rory McIlroy has defended his decision to miss last week's WGC Champions tournament in China so he could watch his girlfriend play tennis in Bulgaria.
Eyebrows were raised when the world number one, 23, skipped Shenzhen in favour of being with Caroline Wozniacki at the Tournament of Champions.
"I think the criticism is fair. [Shenzhen] is a World Golf Championship event, one of the big ones," he said.
"It was a tough one to miss. But I can't play every week."
The Northern Irishman added: "If I had played that, I would have finished the season having played in Turkey, after the Ryder Cup and the FedEx Cup stuff. It's just too much and one event had to miss out and that was it."
World number two Tiger Woods also skipped the $7m (£4.35m) Chinese event, which was won by England's Ian Poulter.
McIlroy beat American Woods in a lucrative 18-hole exhibition in Guangzhou the week before and will tee off in the Singapore Open at Sentosa Golf Club on Thursday.
The 23-year-old, who will slim down his schedule to 22 or 23 events next year, has had an impressive season and is on course to top both the PGA Tour and European Tour money lists.
His fortune of $8,047,952 (£5,020,550) on the PGA Tour gives him a lead of $1,914,793 (£1,194,505) over Woods.
On the European Tour, meanwhile, he has amassed 3,407,300 euros (£2,733,918) - 764,776 euros (£599,191) clear of Sweden's Peter Hanson.
McIlroy said he needs to strike the right balance between playing, fulfilling media commitments and taking time off.
"Managing time is a very important part of my life," he said. "I thought I did a little bit better this season than I did last year after I won the US Open in 2011.
"People want more of you, they want you to do more things and you have to learn how to say 'no'.
"You have to be selfish sometimes. First and foremost, you have to look after yourself and fit in the things that you want to do.
"You see some guys, golf is everything, it's their life. Of course it's my life, and I'm very lucky to do it, but sometimes you just need to step away from it and decompress in some way.
"Spending last week with Caroline definitely helped me do that."