Golfers in the driving seat as player power grows

By Iain Carter
BBC golf correspondent
Last updated on .From the section Golf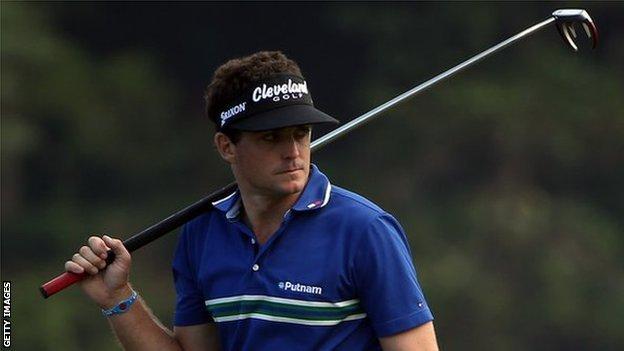 No player should be bigger than their sport but in men's professional golf we are getting to a tipping point that calls into question who is running the game.
The very top golfers play power games which have nothing to do with the length they despatch their drives. With their incredible wealth, these leading stars have the clout to influence significantly how the game is governed.
We have just seen the world's top two players ignore a World Golf Championships event, another major winner suggest he is ready to take legal action to prevent a rule change and the European Tour alter its qualifying criteria to suit its biggest names.
Rory McIlroy and Tiger Woods sat out the WGC Champions in Shenzhen last week. This is one of four events in the tier of tournament immediately below the quartet of majors that provide golf's yardstick.
It just did not suit their schedules. In most other sports the athletes fit around the game's calendar. But in this instance golf's two biggest stars were writing letters of apology to the sponsors.
At the same time sizable cheques were being passed to them for playing an exhibition match against each other in the same country and same week as the official tournament.
Of course they should make the most of their market value, but the fact that Woods and McIlroy felt able to snub the schedule should be of great concern to the blazer brigade.
Ironically it probably helped the sponsors drive through their desire to make this tournament a full WGC event. From next year it will carry all the bells and whistles of the three American-based Championships.
It will be interesting to see what impact its yield of FedEx Cup points will have on the entry list when Ian Poulter defends his title in Shanghai next year.
Poulter, by the way, is now a two-times WGC champion, which undoubtedly elevates his standing in the game.
Achieving his biggest strokeplay title in China also has added value because this is now the game's battleground region. Players, managers, sponsors and administrators know this is where the big money is to be made.
And if Tianlang Guan fulfils his prodigious potential, expect a fair chunk of that cash to head in the direction of him and his associates. At 14 he has just won the Asia Pacific Amateur Championship.
This is a tournament set up by the Augusta National and Royal and Ancient golf clubs. These two power-brokers want their piece of the expanding Asian empire and this event gives them a foothold.
As a result Guan earns a place at next year's Masters. He will compete at Augusta 10 months after another 14-year-old from China, Andy Zhang, qualified for the US Open.
These players represent the next generation, but the shape of the golfing landscape they will inherit looks like being determined by today's star names.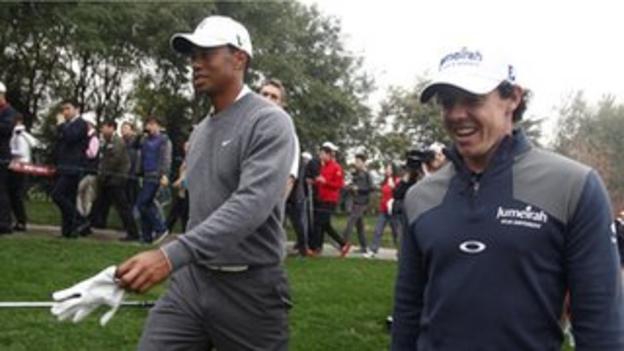 For example, will the use of extended putters be permitted? As noted in an earlier blog, the R&A and United States Golf Association are seriously considering banning such implements by outlawing the use of anchor points in the stroke.
But it seems they face a fight if they want to push through such legislation.
Keegan Bradley, a pro completing only his second full season on the PGA Tour, feels financially secure enough to consider legal action to contest the move.
Bradley won last year's PGA Championship and was a star of the American Ryder Cup team. He is looking to others like Webb Simpson and Ernie Els, who also used extended putters to win majors, to join him in the fight.
The prospect of golfers taking governing bodies to court is a worrying one with only one certainty - money will leave the game and head into the pockets of lawyers.
But the very existence of such a notion illustrates further the power top players hold.
A few weeks ago Luke Donald's suggestion that the Ryder Cup should be regarded as a counting event on the European Tour was swiftly accepted.
It has clearly been judged vital to keep the continent's biggest stars happy, even when it means we do not see as much of them competing on the Tour's schedule.
Effectively this move means that the American-based Europeans have to play one fewer event, which hardly helps bolster a Tour struggling to cope with the impact of the Eurozone crisis.
With Peter Hanson the latest to say he will play the US circuit full-time next season, it is conceivable that of the Ryder Cup team victorious at Medinah, only Paul Lawrie will be fully committed to the European Tour.
Again this is an example of players exploiting rights they have earned. It also provides another indicator that in golf the biggest players can largely please themselves.
They are getting as big as the game itself.