Clarke Ryder captain-elect but McGinley best qualified

By Iain Carter
BBC golf correspondent
Last updated on .From the section Golf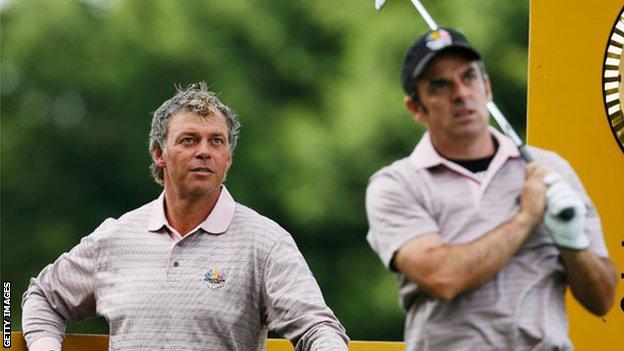 Darren Clarke was quick to tweet he has not been offered the next European Ryder Cup captaincy in the wake of a newspaper report that said the job was his.
But that didn't stop money pouring in on Clarke being appointed Jose Maria Olazabal's successor at Gleneagles in 2014. The 2011 Open Champion is quoted as odds-on after a week in which his candidature was given a massive boost.
First came the backing of his great friend and Europe's most experienced current player Lee Westwood. Then followed the report that the deal was already done.
Even if it isn't, the fact that it has been reported this way makes it potentially harder for the Players' Committee to overlook the 44-year-old from Northern Ireland.
Westwood was surprisingly forthright and was prepared to highlight the fact that Clarke's achievements in the game are that bit greater than those of his main rival Paul McGinley.
In the last couple of months Clarke has done everything right to make sure his name is in the frame.
He successfully distanced himself from his past criticisms of the Centenary Course at Gleneagles and has spoken repeatedly of what an honour it would be to lead his continent.
Clarke was an inscrutable assistant to Olazabal at Medinah and like the other vice captains, McGinley included, made no effort to claim any of the glory from Europe's sensational last day comeback.
That was also a smart move and typical of the man. The extraordinary achievements of Chicago belong to the players and quite rightly Ian Poulter has been named European Tour player of the month for his astonishing contribution.
The Players' Committee are in no rush to make an appointment. The next captain was briefly discussed at the end of a meeting at St Andrews the week after the Ryder Cup.
No vote or decision was taken, although it is fair to assume leading candidates have been sounded out in the wake of that gathering.
It will next be formally discussed in the Middle East in January, probably in Abu Dhabi, with an announcement to follow a couple of weeks later at the Dubai Desert Classic.
Westwood is right to point to Clarke's huge contribution to the European cause over five playing appearances and two vice captaincies. The fact he is a major winner also weighs in the Ulsterman's favour.
He is certainly going to lead Europe one day. The problem with appointing Clarke for Gleneagles is that it would significantly increase the possibility of McGinley missing out altogether.
Despite the positive spin for Clarke, it is the Dubliner who is the best qualified of all the potential candidates.
But if he misses out in 2014, McGinley runs the risk of being squeezed out of future matches by the likes of Padraig Harrington and Westwood.
McGinley has his own place in Ryder Cup folklore after holing the winning putt in 2002 and in three appearances has always been on the winning side.
As a player or in a backroom capacity he has never been in a losing professional team and he skippered two victorious Seve Trophy teams in brilliant style.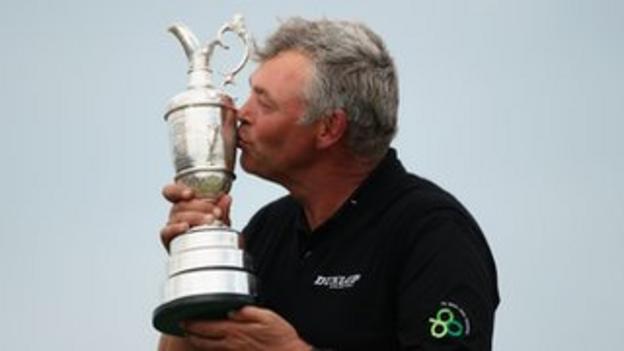 Yes, the match that pits GB and Ireland against Continental Europe isn't the Ryder Cup but it is still a fine test of future captains.
McGinley was tactically astute in both contests. He was clever with his pairings, batting orders and communication. In the media room he not only didn't put a foot wrong, he excelled.
He always seemed a step ahead of his opposing number - Thomas Bjorn in 2009, and Jean Van de Velde two years later.
McGinley's players spoke of him in glowing terms, praising his organisational and motivational skills.
"Paul McGinley has done an unbelievable job this week motivating the guys, keeping everybody in the loop, asking the guys where they want to play, who they want to play with," said Graeme McDowell immediately after the 09 match.
"He's been a really, really good motivator. You know, they [Continental Europe] have the best team on paper, no doubt about it, but we were up for it."
Significantly the Dubliner is also representative of rank and file European Tour members and this is an important consideration. That aspect is diminishing because the team is now dominated by American based Europeans and that will not change going forward.
The recent decision to allow the Ryder and Presidents' Cups and Seve Trophy to be one of the 13 counting events towards Tour membership will also hit the number of tournaments played in Europe by the continent's biggest stars.
McGinley ticks every box despite never having won a major and has the potential to be a great captain.
It would be a loss to European golf if he doesn't get the chance to lead his continent.