Rory and Tiger trot to Turkey

By Iain Carter
BBC golf correspondent
Last updated on .From the section Golf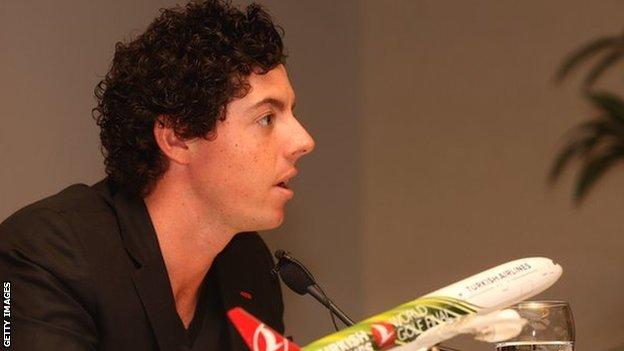 It's time to talk Turkey. The end of the European Tour season is in need of pepping up after the success of the FedEx Cup on the US circuit.
Bosses at the Wentworth-based Tour recognise this and it appears we are set for a major change from next year. Turkey is ready to become part of a new look to the climax of the Race to Dubai.
This week the country stages an unofficial tournament, the inaugural Turkish Airlines World Final event at the Antalya Golf Club in Belek.
It is an eight-man exhibition with Tiger Woods and Rory McIlroy heading a field that will play medal matchplay for a first prize of $1.5 million. Those finishing seventh and eighth in the tournament are guaranteed $300,000.
"It will be a lot of fun," the top two players in the world agreed at the prospect of facing each other on Wednesday. The organisers hope McIlroy and Woods will meet again in Friday's final.
The other competitors, Justin Rose, Lee Westwood, Webb Simpson, Hunter Mahan, Charl Schwartzel and Matt Kuchar will, of course, have other ideas.
"Fun" is the operative word. There are no ranking points at stake and while McIlroy would love to put one over Woods, he told BBC Sport: "Whatever the result, I don't think you can look too much into it because it's not like we are going head to head in the final day of a major.
"But I'm sure we will be trying pretty hard out there and trying to beat one another and hopefully I can come out on top."
The real significance of this week is that it opens up the Turkish market to professional golf at the highest level. The country is desperate to show it can stage big events as it readies itself for another bid to stage the Olympics.
Next year it is expected that this tournament will become a big-money, 78-man strokeplay contest on the European Tour staged the week ahead of the season finale in Dubai.
Tour boss George O'Grady has hinted that it will form part of an end of season run that will be akin to, but not a replica of, the PGA Tour's Play-off series.
It would include the BMW Masters in Shanghai and the HSBC WGC event, also staged in China.
"Hopefully that can happen," McIlroy said. "I know there's a lot of talk going on with Shanghai going from a thirty-man to eighty-man field this year, this (Turkey) maybe going to a bigger field next year in big money events.
"I think that's what the European Tour needs to give it some sort of buzz like the PGA Tour has and get the best players playing week in, week out. It will mean a very busy end to the season for us, but an exciting one too."
McIlroy will defend his title in Shanghai later this month - it was an unofficial event last year. But he is expected to miss the WGC tournament that is moving to Shenzen, also in China, the following week.
The absence of the world number one will be a glaring omission and Woods is not likely to be there either. This won't impress the paymasters and keeping sponsors happy is vital in the current economic climate.
Revamping of the season end is key to the Tour's future strategy, especially if it is to make the most of the extra interest generated by Europe's sensational Ryder Cup victory.
The events at Medinah have resonated on both sides of the Atlantic. We should be in no doubt how much defeat has hurt the American players.
Woods personally apologised to the four American rookies for not contributing more and admits it was "tough" to come to terms with yet another US defeat.
It's worth remembering not a euro, pound, dollar or cent was at stake in Chicago, just a famous trophy.
The motives are somewhat different this week in Turkey but the advent of pro golf here may well have a value that will be felt very significantly in the seasons to come.