Poulter typifies European pride

By Iain Carter
BBC golf correspondent
Last updated on .From the section Golf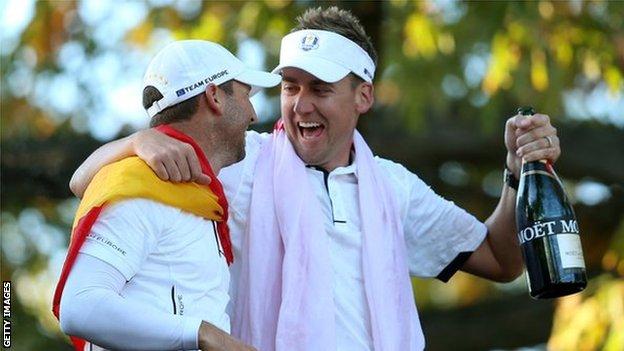 Follow that Gleneagles. In two years when the Ryder Cup comes to Scotland the event's status as a sporting spectacle will never have been higher.
It is amazing how the legend of this biennial clash between Europe and the United States continues to grow.
Before the extraordinary three days that have just been played out at Medinah there were fears that the match was becoming a bit too cosy.
In essence it was going to be one bunch of PGA Tour pros against another, two groups of pals contesting a famous trophy but without the hostile edge of old.
But then Ian Poulter told us that "we want to kill them" and Brandt Snedeker talked of "beating their brains" and we started to realise that this would be as competitive as ever.
Two holes into the first match on Friday morning and Jim Furyk and Graeme McDowell were demanding second opinions on whether the European was entitled to a free greenside drop.
The tone was set and battle was joined.
But Europe seemed flat, cowed and lacking in passion for almost two days until Poulter lit the spark that ignited the comeback flame from 10-4 down late on Saturday afternoon.
To borrow from the Englishman's somewhat inappropriate pre-match metaphor, he was indeed the assassin of American hopes. It was his closing five birdies in the Saturday fourballs that convinced his team-mates that the final day comeback was possible.
Poulter is a remarkable character. Lee Westwood was spot on when he suggested the qualifying categories going forward should be "nine qualifiers, two captain's picks and Poults."
In the wake of Poulter's four out of four haul, Europe's skipper Jose Maria Olazabal agreed that we have to regard him among the continent's Ryder Cup greats.
Golf's self-made man - no one has maximised his talents more - quite rightly has to be placed alongside Seve Ballesteros, Sir Nick Faldo, Bernhard Langer and Colin Montgomerie in the list of European greats in these matches.
It wasn't just the 100% winning record it was the way that it was achieved that was so significant to Europe's so improbable 14½-13½ victory at Medinah.
This was one of the greatest Ryder Cups, and Europe's finest comeback by a mile. But what are the long-term implications?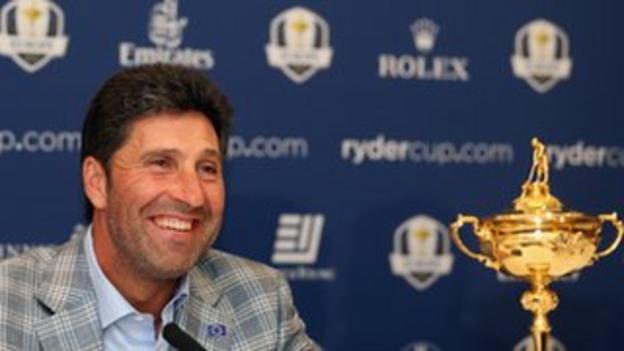 Ian Poulter is earning plaudits for his performance which helped Europe clinch the Ryder Cup.
Two years ago Montgomerie insisted victory for his team at Celtic Manor was vital to the future financial health of the European Tour.
Monty's contention was overstating the truth. It didn't encourage more top players to compete on the Tour, indeed ever since its American counterparts have grown ever stronger.
Switching the qualifying process to make the top five on the European money list followed by the leading five world ranking points accumulators also plays into the hands of the American-based players.
Paul Casey, then number nine in the world, and Justin Rose both missed out in 2010 because they didn't play more European Tour events. Both would have been in Monty's team if the qualifying order was the same as it is now.
So while it provides the stronger looking line-up it does little to boost a Tour that is fighting the economic effects of the Eurozone crisis.
By contrast the American tour becomes ever more attractive even if its home players can't find a way to win the Ryder Cup.
They discovered a way to play foursomes and fourballs and established some outstanding partnerships. Yet without a mate at their side and amid the final-day pressure they buckled as individuals.
That's how it used to be for Europe. There has been a total role reversal in this compelling new chapter in the history of the Ryder Cup.
Where does it go from here? The US will be more desperate than ever to find a way to win away from home for the first time in more than two decades when we get to Gleneagles in 2014.
It is hard to imagine the likes of Steve Stricker and Furyk still being part of their team. Hindsight is 20/20 but those two captain's wildcard picks are not looking so clever now.
Experience, especially losing experience, is seriously overrated. Tiger Woods has only been on one winning American team since his debut in 1997.
The likes of Keegan Bradley, Webb Simpson and Jason Dufner have to become the nucleus of the next US team and surely they will so do with a determination fuelled by the frustration of their Medinah defeat.
Europe ultimately benefited from the influence of Poulter, the tenacity of Rose and composure of Luke Donald. Westwood came to the fore having been rested on Saturday afternoon and Paul Lawrie was typically inspired on the final day.
Many of the triumphant Chicago dozen will be back to defend the trophy in Scotland. Who will be their leader? Probably one of the quartet of vice captains; Darren Clarke, Thomas Bjorn, Paul McGinley and Miguel Angel Jimenez.
Of those, McGinley is best qualified for the task of prolonging an American agony that ensures this competition remains as compellingly competitive as ever.