Wilson looking to save career

By Iain Carter
BBC golf correspondent
Last updated on .From the section Golf0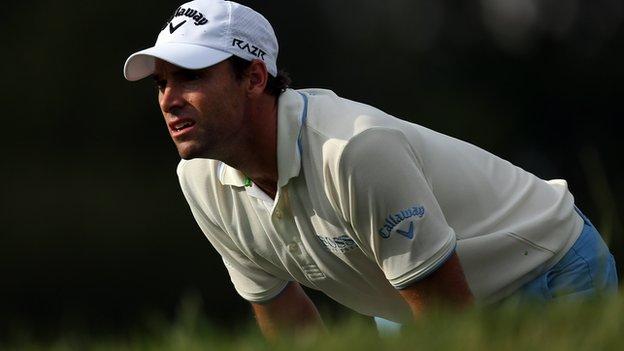 Embarking on the week that could save his golfing career Oliver Wilson didn't know which way to turn.
Well that's not exactly true. The Englishman knew he would be turning right at the plane door to a seat in economy but the former Ryder Cup star couldn't be sure of the aircraft's destination.
This was his situation only last Saturday. Would it be Hong Kong or South Africa that would provide the last tournament chance to regain his European Tour card?
"So where are you playing?" I asked him.
"Still don't know. Guess that's what happens when you play rubbish," Wilson replied with his familiar cheery grin.
Unusually the final week on the Tour schedule offers two events. The Opens of Hong Kong and South Africa provide a final chance for players needing a top 115 finish on the money list to gain their playing rights for next year.
Wilson is showing signs of emerging from an alarming slump that cost him his card twelve months ago. Two years earlier the Nottinghamshire man had finished seventh on the money list and in 2008 he played for Europe in the Ryder Cup.
After a season playing largely courtesy of invitations, he calls this week "the most important of my career" because the opportunity is there to put himself back where he firmly believes he belongs.
"Fortunately I feel like I'm moving in the right direction and I'm not too far away," the 32-year-old said.
"But I've fallen so far down the path that it is a lot harder now to move in the right direction because you need opportunities and they don't always come along that often now."
And this was why it wasn't until last Sunday lunchtime before Wilson knew that his destination would be Hong Kong this week. It took the final shake down in Singapore to determine whether he could squeeze into the field.
Heading East was his preferred option. A top eight finish should be enough to secure his card. In South Africa Wilson would have probably needed fourth place money or better.
"When you are playing well and you are in the big tournaments, earning good money your family is happy and everything is good," he said.
"It is stressful (because you are trying to win) but it doesn't come close to when all of a sudden you are not earning any money and you are spending a lot of money to play in the tournaments.
"People around you get worried; your friends and your family. One of the hardest things is to watch your family because they live it with you. You know, I play the golf, I'm confident and know what I'm doing and I believe in what I'm doing.
"You are constantly picking yourself back up, having to take the positives from every result so you are kind of used to dealing with that.
"When it starts going wrong I think its harder on your family. It's hard to watch that and see the stress that they get under from it because they are wanting you to do so well.
"You can't compare it with the stress of trying to make the Ryder Cup. At the time you would say 'that was really stressful, I'm glad that's all over.'
"But from where I'm looking now I'd say if I hadn't made that Ryder Cup would it have been that big a deal? It would have been a bump along the path but it certainly wouldn't have affected me like this last couple of years."
Having hit such heights and good enough to garner nine runners up cheques Wilson is currently experiencing the flip side of the game.
It is a lifestyle far removed from the pampered existences of those for whom finding the bottom of the cup has been a whole lot easier in recent times.
Wilson was speaking as part of a BBC 5Live special report on the largely unseen side of the professional game that is far removed from the glamorous heights of Rory McIlroy and Co.
The programme will be aired next week while the top sixty on the money list contest the big money season finale DP World Tour Championship in Dubai.
At the same time many of the lesser lights will be readying themselves for six rounds at the Tour's qualifying school.
Wilson hopes to earn enough this week to avoid that tortuous process. His decline has been down to a myriad of reasons including a stomach illness that took too long to be diagnosed.
Losing his card at the end of the 2011 season was "a massive blow to the ego". He remains refreshingly positive and is helped by a sense of perspective that means he doesn't lose sight of the privilege of playing golf for a living.
Nevertheless there have been seriously dark days. "One week you miss a cut and it feels like the end of the world's near," he admitted. "Everything's as bad as it can be.
"Quite often on a Sunday night, or a Friday if you've missed the cut, it all hits you. What's going on? Then you get up on a Saturday morning and try to pick yourself back up.
"You know there have been some really down weeks - tears and all sorts. You don't know what's going to happen and you are really worried and that's where its important you have the right people around you."
Wilson has made €132,000 this season from an uncertain schedule that has cost him any chance of creating a strategic timetable to suit his game. It's a far cry from the recent days when he'd earned enough to join the PGA Tour for the 2010 season.
He didn't make the move out of loyalty to the European Tour and a desire to retain his Ryder Cup place.
"I've questioned quite a lot whether I could get back and whether I'd lost my short game or the mental ability to score," Wilson admitted. "But after this year I've realised its all there. It just comes down to fine margins."
And so he heads to Hong Kong, the venue where he played his first European Tour event eight years ago, in the desperate hope that he can revive his career.
"It's going to be a matter of time. Whether it takes two months, six months, six years to get back to where I was I know I will. I'm very impatient and I wish it had happened a year ago but I'll keep positive and moving forward."
There's no more decent or personable player on Tour. Let's hope it is this week.