Rory McIlroy races ahead of the pack after magical year

By Iain Carter
BBC golf correspondent
Last updated on .From the section Golf82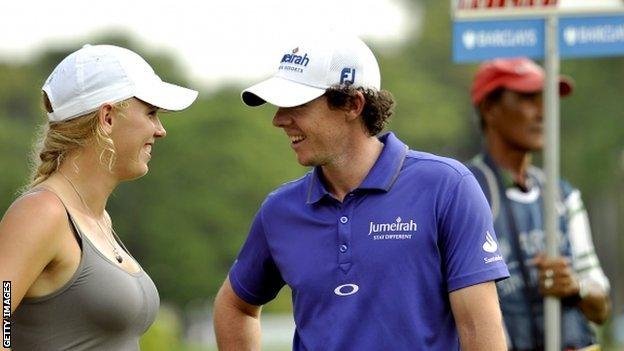 Ordinarily a calculator is the first item to be packed for the European Tour's season-ending tournament in Dubai.
The ready reckoner is required to work out finishing positions needed to win the biggest spoils from the money list bonus pool.
But the extraordinary form of Rory McIlroy this season means that we have long known that he will be collecting the $1m (£628,000) jackpot for topping the Race to Dubai.
The Tour's final event isn't exactly laced with its usual intrigue. For merely teeing off in the desert this Thursday the 23-year-old from Northern Ireland will add that sum to season earnings already in excess of $9.6m (£6m).
The figures tell you how dominant McIlroy has become. Four victories including the PGA Championship, his second major, have taken him to the money list titles on both sides of the Atlantic.
His third-placed finish in Singapore the week before last put McIlroy beyond reach on the European earnings table.
So for the season ender, the rebranded DP World Tour Championship, we are merely left with a tournament for the top 60 in the Race to Dubai.
For McIlroy it is a chance to put behind him his missed cut in Hong Kong last week and create a fitting finale to his stellar 2012 schedule.
Achieving this might not be as easy as it is to identify what makes this remarkable player tick. Often when the edge of trying to make history is absent he becomes a Samson-like figure shorn of his locks.
"I'm not sure if the energy in trying to sew-up the Race to Dubai and competing in the FedEx Cup has taken more out of me than maybe I thought, because while I am feeling OK physically, mentally I feel really tired," he has admitted.
"When you achieve something that you want to achieve so bad, like the Race to Dubai, there is a letdown considering there are still two events remaining."
This is where McIlroy differs from Tiger Woods, the man he has supplanted at the top of the game. The former number one can raise himself for any contest and if he can't (for whatever reason) he certainly does not let on.
McIlroy likes to tell it how it is, but his candour is not always what a tournament promoter wants to hear.
Recently he admitted that he treated the lucrative but unofficial World Tour Final in Turkey as a chance to "play a bit of golf," adding that it wasn't just about competing. "I get to spend some time with (girlfriend) Caroline Wozniacki - I viewed it as a week like that. I didn't touch a club until the first day."
It would have been easy to criticise the world number one for having such a lax attitude but it was refreshing to hear a player prepared to admit the truth rather than play a game of well-paid platitudes.
His healthy sense of perspective surely helps McIlroy find his A game when he needs it. When he does he is unstoppable. This has been a landmark year in which he seems to have emerged from the growing pains of sporting superstardom.
When he missed four cuts in the spring many chose to blame his romance with tennis ace Wozniacki. Yet it is more likely that their relationship has been the making of the Ulsterman.
He has become far more athletic, understanding that he needs to have the physique to sustain the whirlwind hip movement that is the bedrock of his swing.
To McIlroy champagne is for spraying rather than supping. He is now a near tee-total man. He has come a long way from the boy who was tweeting his drinking exploits while skipping the 2011 Players' Championship.
Now he seems ready to dominate in a way that was once the domain of Woods and the 14-times major champion has a pretty good idea for McIlroy of what that will have to entail.
"Certainly its delegation of time," Woods told BBC Sport. "Time management skills are a must. You have a lot of obligatory things you must do.
"The reason I got there was because I practiced my ass off and he's done the same. You know media and other requests start taking his time away from that and preparation.
"You know he's done a pretty good job of it. He went through a spell this year when he didn't play well and he went back home and just practised and lo and behold he turned it around and won the PGA."
McIlroy's most immediate challenge will be getting to grips with new playing equipment in 2013. Switching club and ball manufacturer is an extremely lucrative but potentially risky move.
He will do so while playing an even tighter schedule. "I now look back over the last couple of years wondering why did I stretch myself so much," the Northern Irishman said.
"I've probably played an extra couple of tournaments too much and I have learnt from the last few years, so that's why I'm cutting back my schedule even further from next year."
McIlroy has earned the right to pick and choose his way through the calendar and will do so with the simple aim of "trying to keep improving as a player."
It will be interesting to see whether this week he can raise himself to challenge for a fifth victory in 2012 or whether he will be just happy to cruise in the peloton knowing his year's work is done.
Whichever way it pans out we already know this golfing year belongs to him. No need for a calculator to work that one out.