Action heats up for Scots in Dubai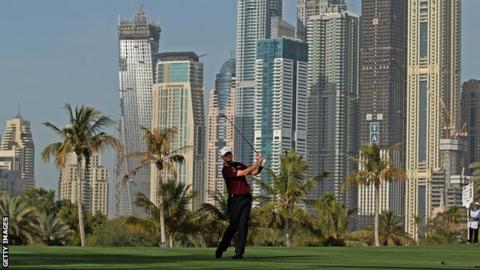 We have reached the final stop-off on the long haul that is the European Tour.
Three years ago, the Tour decided to rebrand things.
Out went the Order of Merit, which Colin Montgomerie dominated in the 1990s by winning seven times in a row. In came a new name for the money list, the 'Road to Dubai'.
An extensive season culminates with the DP Tour World Championship and pits the top 60 earners together to battle it out in the desert for a share of $8m and a $3.75m bonus fund for the top 10.
Christmas then has come early for the players, led by the imperious world number one Rory McIlroy.
The 23-year-old was still opening his presents from Santa when Monty reigned supreme. Now the Northern Irishman wears the crown, on both sides of the Atlantic.
The leading earner on the PGA Tour McIlroy will finish the season on top spot in the European money list regardless of what happens here this week.
And to think earlier in the season people were speculating that his romance with tennis ace Caroline Wozniacki was harming his golfing career! Game, set and match Mr McIlroy.
From a Scottish point of view, the season ends on a positive note.
Six Scots have made the journey, led by Ryder Cup hero Paul Lawrie.
Paul Lawrie, 10th in Race to Dubai
Season earnings to date €1.8m
What more can we say about him this season?
Two wins on Tour and seven top 10 finishes led 'Chippy' back into the Ryder Cup team 13 years after his debut in the trans-Atlantic tussle and his 5&3 victory over Brandt Snedeker played a vital role in Europe winning in Medinah.
The 43-year-old former Open champion returns to the scene of his golfing re-birth 12 months ago when finished runner-up.
Richie Ramsay, 27th in Race to Dubai
Season earnings to date €950,000
It's been a season of highs and lows for Ramsay who, after missing the cut at both the Scottish Open and Open Championship in succession, stated that he was at the "lowest point of (my) professional life."
He changed his approach to golf after that, focussing on his dedication which saw him postpone his honeymoon to concentrate on his game.
The 29-year-old Aberdonian won the European Masters in September and recorded three other top 10 finishes.
Stephen Gallacher, 35th in Race to Dubai
Season earnings to date €760,000
The year promised so much for 38-year-old Bathgate man after tying for second place here at the Dubai Desert Classic in February.
He finished runner-up at the Maylasian Open few weeks later but didn't qualify for any of the Majors.
However, he has come into some timely form in last few weeks by recording three top 10 finishes in last four events.
Marc Warren, 55th in Race to Dubai
Season earnings to date €485,000
This would've been a turbulent year for Rangers-fan Warren regardless what happened on the course.
His meltdown at the Scottish Open though means 2012 is his annus-horribilis.
It all started so well for him with a top three finish at the Joburg Open in January.
But despair ensued at Castle Stuart when Warren blew a three shot lead with four to play. It cost him a place at the Open Championship the following week.
No wonder the 31-year-old said he "might need a little help getting to sleep" that Sunday night.
David Drysdale, 57th in Race to Dubai
Season earnings to date €465,000
Another who started the season well, finishing tied with Marc Warren for third at the Joburg Open in January.
Two other top 10 finishes for the 37-year-old, one of which came at the PGA Championship at Wentworth when he played surely the most bizarre shot of the season.
His approach going into the burn and bouncing back out, landing off the fairway. "Of course I meant it," he said afterwards, with a grin that a cat from Cheshire would be proud of.
Scott Jamieson, 59th in Race to Dubai
Season earnings to date €455,000
The East Kilbride man will be hoping for something to help celebrate his 29th birthday next week.
Another top 10 finish to go with his four this year would fit the bill.
Made steady progress after his great rookie season last year and will relish the opportunity to play against the best on the European Tour.