Chris Wood targets rise up rankings at European Tour closer
Last updated on .From the section Golf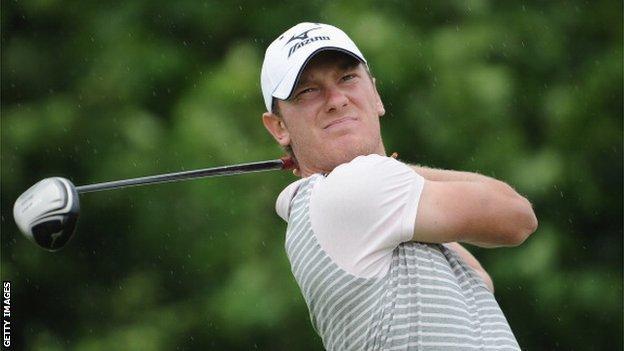 Chris Wood has his sights set on a return to golf's top 100 as he prepares for the European Tour finale in Dubai.
The Somerset golfer, currently ranked 148th in the world, is aiming to pick up precious ranking points at the DP World Tour Championship.
"For me it's all about building up those world ranking points and trying to get me back into the top 100 and build from there," said Wood.
"Another decent finish will do me a lot of favours going into next year."
Wood finished last week's UBS Hong Kong Open in scintillating fashion, shooting a final round of 63 to finish tied 10th on seven under-par.
"I know I'm more than good enough to be in that top 50," said Wood. "I've had my setbacks and I'm just gradually stepping forward towards getting there again.
"My game is there, it's just playing the events and getting the results that I know my game is more than capable of."
The DP World Tour Championship starts on Thursday, with Wood hoping for a better outcome than that which befell him two years ago.
"A couple of years ago I ended up collapsing in the fourth round and was whisked off to hospital," he said.
"I was about 12th at the time and going nicely, so I feel like I'm due a good week. It owes me, this tournament.
"It's a great event. Every player on tour is desperate to get into it. Golf in Dubai on the European Tour is as good as it gets - there's the weather, the courses and you get some good crowds."
Following the Singapore Open earlier this month, Wood stopped off at Dubai for some practice rounds at Jumeirah Golf Estates, and believes the course plays to some of this strengths.
"The course suits me," said Wood. "I've got a bit of length off the tee and it's not the tightest so you can afford to hit the driver quite a bit.
"It's my third time playing there now and it's definitely grown on me. I played it a few weeks ago and it was over-seeded but you could see it was going to be immaculate in a couple of weeks' time."