Michael Bannon: The man who mentors McIlroy

By Iain Carter
BBC golf correspondent
Last updated on .From the section Golf71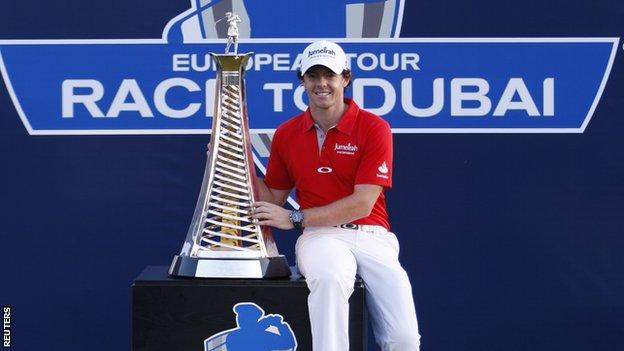 Imagine how it must feel to watch a player you have coached since he was eight years old stand at the pinnacle of the golfing world.
Michael Bannon, the quietly-spoken former club pro from Northern Ireland, was able to do exactly that as the desert's evening sun glinted on yet more silverware for his protege Rory McIlroy.
Fifteen years on from their first lesson together Bannon stood and watched. He was well away from the limelight, but could reflect with great satisfaction as his star pupil was handed the trophies for the Race to Dubai and the season-ending DP World Tour Championship.
It has only been this year that Bannon has relinquished his duties teaching the amateurs of Bangor Golf Club to go full-time with McIlroy.
"I've known Rory's mum and dad since before he was born and we've been friends in Holywood. I've seen Rory grow up from a child to where he is now; it's just unbelievable," Bannon told BBC Sport.
It was fifteen years ago at Holywood Golf Club near Belfast that the coach first started imparting golfing wisdom to McIlroy, who had been given the basics of the game by his father Gerry.
The boy, who as toddler had been bashing balls around the club, soon showed he possessed the skills that could take him far in the game.
Bannon was no mean player himself. In 1997 he lost out to none other than Padraig Harrington in a play-off for the Irish Professional Championship.
But his real strength has been nurturing McIlroy to greatness. Bannon says he has seen nothing better than the five-birdie climax the 23-year-old produced to wrap up his 2012 season in fitting style.
"Finishing with five single putts like that was incredible," he said.
The Dubai victory was McIlroy's fifth in a year in which he collected his second major by winning the PGA Championship by eight strokes in August. He has already built a lead in the world rankings that is the largest we have seen since Tiger Woods was in his pomp.
This despite a mid-season blip where McIlroy missed high profile cuts at the Players', Wentworth PGA and in his US Open title defence. "It was just a little thing in the swing there," Bannon said.
"Possibly he was getting underneath the plane on the downswing and the club was traveling far too much on the inside and he was getting a miss to the right.
"There was too much technical stuff going on but as soon as we hit the Bridgestone event in Akron he really started to play again. It was all good from there."
McIlroy was fifth in that World Golf Championships tournament in August and a week later he romped to his PGA triumph at Kiawah Island.
It was one of those majors where he made the game look ridiculously easy. Bannon, though, is perfectly placed to know how much endeavour goes into reaching such a position.
"He works very hard. As he realises, he has to hold on to this number one position and if he wants to win more tournaments then he knows he has to put in more and more work.
"And the type of work that suits him. He doesn't have to beat balls every day all day because he did that in his teenage years to produce what he has now.
"It's more or less a fine tuning process. With Rory it's like getting something that works, working on it a bit, getting a feel and then saying that's okay.
"Then we'll go and work on something else and getting all the parts of the game up to the right level," Bannon added.
The next challenge is to ready McIlroy for new equipment for the 2013 season. The two-time major champion is cashing in on his new status with a multi-million pound deal thought to be with Nike.
It's a potentially risky move given the success he has enjoyed with Titleist, the manufacturer that has supplied his clubs and balls throughout his career. Bannon is not daunted by the move.
"You have to think that Rory is changing from bladed clubs to bladed clubs, not changing from a muscle back to a cavity or a blade. The shafts are exactly the same and all the shafts in his woods will be the same.
"So it's not a massive change, he just has to get used to the new golf ball."
McIlroy says he is already excited thinking about 2013 and what it might bring for his glittering career. Bannon says there's room for improvement in the steepness of his backswing but not much else.
The coach is relishing being on tour with his protege. "I loved what I did with the amateurs at Bangor, but I think given the opportunity to go and follow Rory I just couldn't turn it down. It's great - I just love it."
There is no doubt that McIlroy has become the supreme golfer and refreshingly remains a superb ambassador for the sport.
An abiding memory from Dubai will be the way he held up his post round interviews to give his cap to a young fan. Charlie was his name and McIlroy took time to check the spelling was with an "-ie" rather than an "-ey" before signing the souvenir.
It will become some collector's item, the last to bear his current sponsors' names.
Charlie looked about eight years old. Inspired by this kind of hero, you just wonder what the young lad's potential might be? Especially in the hands of the right tutor.