Putters: Golf chiefs plan limits on belly and broomhandle clubs
Last updated on .From the section Golf173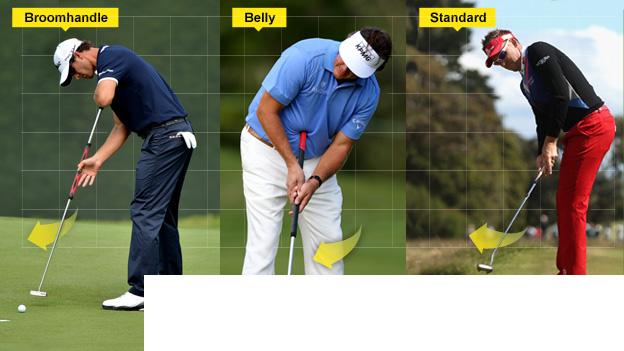 Golf's ruling bodies have proposed to limit the use of long-handled putters.
Players would be banned from anchoring any strokes to a pivot point, such as their chest or midriff, from 2016.
Three of the past five majors have been won by players using longer putters, but the Royal & Ancient Club and US Golf Association want changes.
"Our concern is that anchored strokes threaten to supplant traditional putting strokes," said R&A chief executive Peter Dawson.
Extended putters would still be allowed but would have to be used as a free swing away from the body.
Anyone who breached the new rule would be subject to a two-shot penalty in strokeplay or the loss of a hole in matchplay.
Traditionalists argue that anchoring putts has changed the fabric of the game, reducing the effect of nerves - twitches in the putting stroke known in golf as "the yips" - and helping provide a pendulum motion that can improve consistency.
"If you anchor one end of the putter to your body, it is taking away one of those frailties," said Dawson.
"The majority of golfers will understand why we have done this. There will be some players whose careers have become dependent on the anchored putting stroke. They do have three years to find another method if the rule change is confirmed."
The proposed rule would apply at all levels of the game, which is played by 60 million people worldwide.
It would prohibit "strokes made with the club or a hand gripping the club held directly against the player's body, or with a forearm held against the body to establish an anchor point".
Long-handled putters have been used for more than 30 years, but their popularity has increased over the past two years, with an estimated 15% of professionals now choosing this method.
"Throughout the 600-year history of golf, the essence of playing the game has been to grip the club with the hands and swing it freely at the ball," said USGA executive director Mike Davis.
At the 2012 Open in July, Ernie Els sank the decisive putt with his belly putter to thwart Adam Scott and his broomhandle version.
Keegan Bradley at last year's US PGA and Webb Simpson at this year's US Open triumphed with an extended putter anchored in their midriff.
"I'm obviously not happy with the ruling, but I respect the USGA," said American golfer Bradley.
"They make the rules, and I'll adjust appropriately. I'm going to accept the challenge and hopefully do well when they do ban it."
Those calling for changes have included 14-time major winner Tiger Woods.
"I just believe that the art of putting is swinging the club and controlling nerves," he said.
"Having it as a fixed point, as I was saying all year, is something that's not in the traditions of the game."
A three-month consultation will take place on the proposal during which players and manufacturers can comment.
Asked about suggestions that some players may take legal action over the new rule, Dawson said: "We will defend our position all the way up the legal system."
Whereas other golf clubs are restricted to a maximum length of 48 inches, putters can be any length.
Some players may opt to continue using longer putters but with a free swing, as Angel Cabrera did to win the Masters in 2009.
"We are conscious putting in a more upright style may help those with back ailments or other mobility issues," said David Rickman, the R&A's rules director.
"We believe golf is intended to be played with hands and arms away from the body.
"Putting and chipping can make up nearly half the strokes played on a golf course and making this change is in the long-term interests of golf as a whole."
Golf rules on certain strokes have been changed in the past. It was decided around a century ago that the ball must be fairly struck and not be pushed, scraped or spooned.
In 1968, a "croquet" style of putting was outlawed and snooker or billiards-type strokes are also banned.
World number one Rory McIlroy is among those supporting the proposal.
"Fully agree with the anchoring ban. Better image for the game of golf, skill and nerves are all part of the game. Level playing field in '16," said the 23-year-old on Twitter.