New rules on long putters will limit numbers of potential winners

By Iain Carter
BBC golf correspondent
Last updated on .From the section Golf79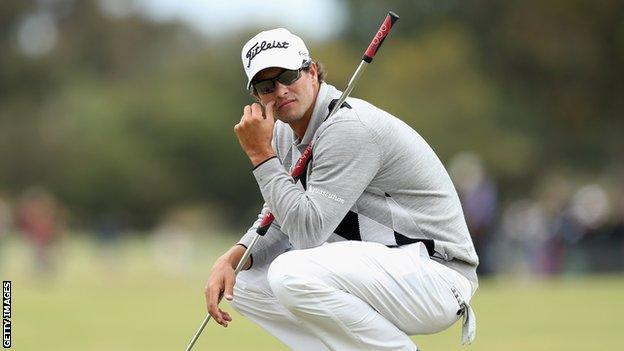 Broomhandle and belly putters are hardly a recent innovation. In fact, they have been on the golfing radar for nearly half a century, with the first extended implement patented in 1965.
They first truly came into vogue in the mid-1980s but it is only in the past couple of years that we have seen the proliferation of their use, particularly by younger players. And it is this development that has prompted the golf authorities
Extended clubs would not be outlawed when the rules of golf are updated in 2016, but the way the putters are used would be restricted - specifically the use of an anchor or pivot point on the body will not be allowed.
It means wedging the end of a putter in your midriff in the fashion used by Ernie Els to win this year's Open will be outlawed. Similarly, holding a broomhandle-style club against the sternum in the style of Adam Scott, the man who so nearly won the same tournament, will no longer be permissible.
The rule-makers, the Royal & Ancient Club and US Golf Association, have become concerned that the essence of the game is being compromised by such methods.
The anchored long putter is no longer seen as a technique of last resort for players who had lost the ability to putt by conventional means, a trend further illustrated when 14-year-old Chinese player Guan Tianlang used a belly putter in his recent victory at the Asia Pacific Amateur and earned himself a place at next year's Masters in the process.
Keegan Bradley became the first player to win a major using an anchor point when he won last year's PGA Championship, but with Webb Simpson then winning this year's US Open and Els's triumph at Lytham a month later, three of the last five majors have gone to players using non-conventional putters.
Bradley, who had previously intimated he was ready to fight the proposal, this week shifted his position. "I'm obviously not happy with the ruling, but I respect the USGA," he said.
"They make the rules, and I'll adjust. I'm going to accept the challenge and hopefully do well when they do ban it."
(The USGA seems unconcerned at the prospect of legal challenge in any case - "Shame on us if we are scared of litigation," said the association's Mike Davis at a news conference to announce the rule change.)
Certainly the move will please traditionalists, and it has the backing of 14-time major winner Tiger Woods, who echoed the authorities' concerns when he said: "I just believe the art of putting is swinging the club and controlling nerves, and having it as a fixed point is something that's not in the traditions of the game."
It is also likely to get a warm reception from British stars such as Luke Donald and Ian Poulter, who excel on the greens using traditional putting techniques and will presumably welcome a rule change likely to make those qualities more significant. This is a development that can be expected to reduce the number of potential winners at elite tournaments.
For the likes of Bradley, Simpson, Els and Scott, there is now the prospect of an unsettling period when they will have to wean themselves away from a method that has brought them great success.
Bradley thinks he will stick with his belly putter until the rules change in 2016. "I'll use my style of putting until then," he said on the eve of the announcement.
"And when that time does come closer, I'll start to mess around. But as of now I'm still focused on the belly putter."
US Open winner Simpson says he is likely to change back to the conventional putter sooner. "I would switch as soon as I felt ready," he said.
"I'm just going to take it one step at a time until my comfort level gets better and better. If I feel ready by Hyundai [his first tournament next season] I'll be putting with the short putter.
"If I don't feel ready for two years, I'll wait."
But whatever people's verdict on the new rules, there should certainly be no asterisk alongside the major wins of Simpson, Bradley and Els. They were playing within the rules of the day, just as Bobby Jones was when he was winning his majors with a concave sand wedge that was later outlawed.
Golf's rules have always moved with the times. Other methods down the years, like putting croquet style, have been outlawed and this development - significant as it is - is just another in that process.
Just as pressing, if not more so, is the need to legislate to restrict how far the golf ball flies. We will have to wait a while longer for that to happen, though.