Rory McIlroy to play in 2013 Irish Open at Carton House
Last updated on .From the section Golf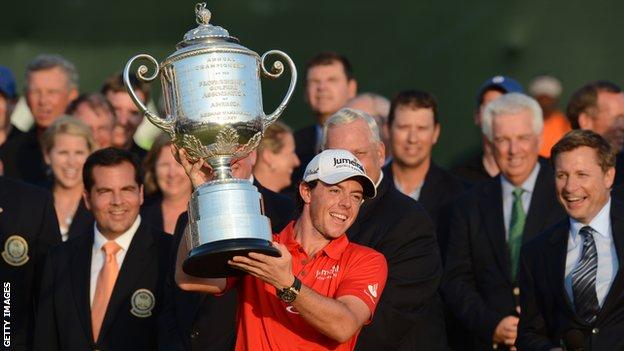 Rory McIlroy will be in the field for the 2013 Irish Open at Carton House's Montgomerie course.
McIlroy's participation in the event was confirmed at Tuesday's launch of the tournament which will take place from 27-30 June at the Kildare venue.
"It would be daft if we didn't make absolutely sure that Rory, while he is number one in the world, plays in the Irish Open," said European Tour chief George O'Grady.
"This date is doable for him."
There are reports that McIlroy has waived his current seven-figure appearance fee to agree to tee up at Carton House.
The presence of McIlroy will be a huge boost for the event which moves to the Kildare course after the huge success of this year's tournament at Royal Portrush.
The late June slot is regarded as a prized date in the European Tour's calendar.
Another Irish major winner Padraig Harrington believes the Irish Open is "back on the map" after a difficult number of years for the event.
"The buzz created in Portrush should be carried on to Carton House," said Harrington.
"It's the perfect venue, adjacent to Dublin. It has a lot to live up to (after Portrush) but it should be a winner.
"Portrush was the top event (on tour in 2012) and you'd rather reach for the highest standards to match than reach for an average standard. We have to keep up with that," said Harrington, who will be in the field at Carton House along with Ireland's other recent major winners Graeme McDowell and Darren Clarke.
On Monday, it was confirmed that that 2013 event would be staged at Carton House's Montgomerie course.
Last January, it was announced that Carton House would host the event but a decision on whether the Montgomerie or O'Meara courses at the Kildare venue would be used was delayed.
Two new holes were recently constructed on the O'Meara course with a view to the event possibly taking place there.
However, Carton House manager partner Conor Mallaghan said on Tuesday that "knowing how unpredictable Irish weather can be, we have decided that the Montgomerie course is the sensible option for 2013".
Carton House's Montgomerie course previously staged the event in 2005 and 2006.