Scott Jamieson targets more European Tour wins

By Phil Goodlad
BBC Scotland
Last updated on .From the section Golf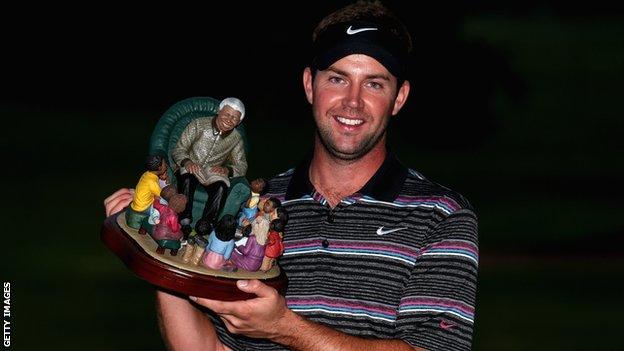 Scott Jamieson hopes the experience of winning his first European Tour event will help him land more titles.
to claim the Nelson Mandela Championship, which was cut to 36 holes due to rain.
"Such a strange week because even on Saturday morning we weren't even sure if we were going to have a tournament," the 29-year-old told BBC Scotland.
"To finish the weekend with the trophy in the hands was a nice turnaround."
Jamieson is starting his third year on the European Tour, having earned promotion from the Challenge Tour.
"The first one's probably the hardest one to do and from then you can build on it," he said. "It opens up a few opportunities, a few doors.
"At the time when I was playing the smaller tours and the Challenge Tour, I always wanted to be on the European Tour and it seemed a long way away.
"But now it's valuable experience that I can rely on. You have to learn how to win a the lower divisions if you like in order to be able to climb up to European Tour.
"Winning's exactly the same at any different level. There's a lot of pressure involved so you're going to be nervous. It's the same at every level, all you can do is beat the guys you're playing against.
"In the play-off on Sunday, I was very nervous but the other two guys would've been nervous as well. It just boils down to who can handle it the best and stick to their normal routine and their normal game.
"I now know I can win. It's not a case of just having to believe I can win at this level, I now know I can."
And the Glasgow-born golfer believes his win at Royal Durban proves "you don't have to be perfect in order to succeed".
"I know last week I played and I made some mistakes and I still managed to win the tournament so I think that's going to help me going forward," he added.