Ryder Cup, Rory McIlroy, Tiger and all that - 2012 reviewed

By Iain Carter
BBC golf correspondent
Last updated on .From the section Golf38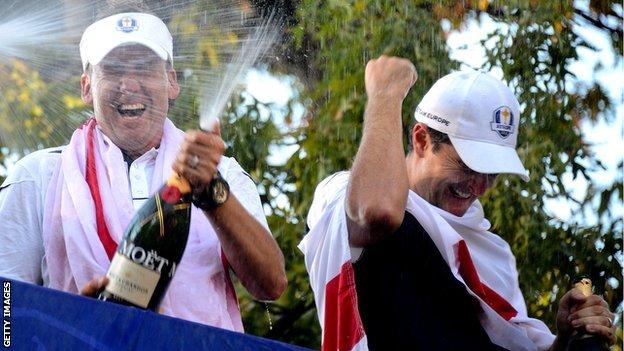 In their thousands the American crowds thronged for the exit gates oblivious to the unbridled celebrations erupting inside the ropes.
A lone figure stood arms waving, face beaming. He looked up at the BBC Radio 5 live commentary box and we exchanged grins. It was Bernard Gallacher who'd been giving our listeners wonderful insight during the drama that unfolded over the three days at Medinah.
Yes, there was an undoubted sense of triumph about the Scotsman and why not? He is a three-time former captain and victory over the Americans means an awful lot to him.
But there was more to that expression of joy. There was a sense that he was celebrating witnessing something very, very special. "The best ever Ryder Cup," he later said.
And it is that vision of a veteran golfer, who has seen so much of what the game has offered over the last half century, enjoying those moments with such relish that provides my abiding golfing memory of 2012.
This could easily have been the year when no one noticed golf. Such were the sumptuous sporting spoils the game could easily have been buried by the dramas elsewhere.
But golf more than held its own throughout the past 12 months. It was a truly vintage year which, from a European point of view, reached its peak in the outskirts of Chicago in early autumn.
Surging back from 10-4 down, inspired by a seemingly possessed Ian Poulter, Europe gained a victory that was as unlikely as it was dramatic. Justin Rose rammed home that monster putt on the 17th and his opponent Phil Mickelson sportingly applauded.
In truth, he probably still thought the Americans would win back the precious trophy but that Rose putt was part of an unstoppable European tide.
It was almost as though the hand of a smiling Seve Ballesteros was at work from above to help out his old mucker Jose Maria Olazabal, whose captaincy for so long looked like ending in uncharacteristically meek defeat.
Instead we were left with Tiger Woods conceding an eminently missable putt to Francesco Molinari to hand Europe their win after Martin Kaymer had held his nerve to ensure the trophy would be retained.
Miracle or meltdown? Probably a bit of both and how the US rued sticking the 17th pin on the front right of the green. It was a location their players were ill-equipped to find when the pressure was at its greatest.
And this stunning Ryder Cup was so in keeping with the rest of the year. Rory McIlroy had surged to the top of the world rankings with victory in West Palm Beach to lay down the marker in early spring.
Then came Augusta and Bubba Watson's outrageous wedge that flew sideways from the trees on the 10th to claim play-off victory over Louis Oosthuizen. The South African had earlier benefitted from an albatross two at the second, holing out from the fairway on that steeply downhill par five.
Luke Donald successfully defended the PGA title at Wentworth. We thought it had set him up perfectly for a tilt at the US Open. But his challenge never made it out of the blocks and McIlroy's title defence also foundered with a poor missed cut.
Lee Westwood challenged at the Olympic Club but faded when his ball freakishly failed to tumble from the high branches of a tree in the final round.
That US Open was a hard watch - the course set up was brutal and Webb Simpson proved last man standing.
Ernie Els made it a belly putter major double the next month at July. The South African took full advantage after Adam Scott's broomhandle lost its magic and his drive at the 72nd found sand.
Scott's capitulation, squandering a four-stroke lead over the closing holes, was sad to see but a fourth major for the popular Els was fitting compensation.
Little did we know then that McIlroy was about to turn round a season that was proving a struggle in the big events of high summer.
"It all clicked when he finished fifth in Akron," his coach Michael Bannon recalled. That was the week before the year's final major, the US PGA at Kiawah Island.
The Northern Ireland youngster arrived at the Ocean Course and, looking out from the locker room, loved what he could see. He was ready to win and win big.
McIlroy romped to an eight-stroke victory, the same winning margin as when he won the 2011 US Open. He had won two majors at a younger age than Tiger Woods managed.
Woods had a decent year with three wins, but was repeatedly undone with poor weekend performances after promising starts. It suggests an underlying mental frailty that will need to be addressed in 2013.
McIlroy powered to two wins in September's PGA Tour play-off series and wrapped up his fifth win at the season ending DP World Tour Championship. He'd already won the money lists on both sides of the Atlantic.
Although player of the year in Europe and America, McIlroy might have been remembered more for missing his singles Ryder Cup tee-off time had it not been for a state trooper rushing him to the course after failing to realise when he should have been starting his round.
A man 30 years older than McIlroy, Roger Chapman, also deserves remembering at the end of 2012. The former European Tour journeyman beat star-studded fields to win the Senior PGA and US Open.
He called them "life changing" wins and he was accorded honorary life membership of the European Tour. "I've just paid my subs," he joked when he was given the award. That's my favourite quote of the year.
Tribute should also be paid to Tegwen Matthews's Great Britain and Ireland team which won the Curtis Cup at Nairn. It was the first time the US had been beaten in 16 years and meant that all the transatlantic trophies were held on this side of the pond.
Europe's amazing win at Medinah ensured this remains the case as we head into the new year. No wonder Gallacher and the rest of European golf is smiling at the moment.
It's been some year to follow. Merry Christmas.