Ryder Cup: Colin Montgomerie linked with Gleneagles captaincy
Last updated on .From the section Golf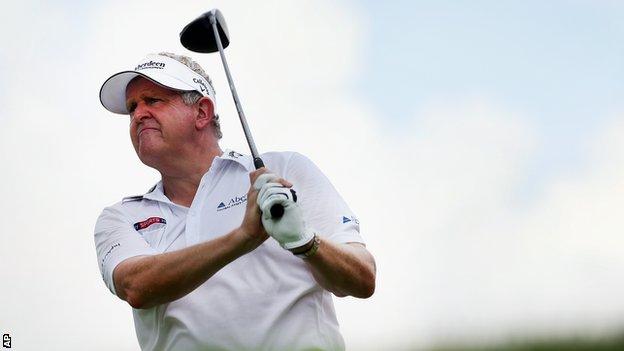 Colin Montgomerie has been linked with Europe's captaincy at the 2014 Ryder Cup in Gleneagles.
"We seriously need the right man for the job," said Clarke.
"We do have an (unwritten) rule where we don't ask anybody to do it again, but we might have to look at that."
Montgomerie, who did not lose a singles match in his eight Ryder Cup campaigns as a player, was not expected to be in the running for the 2014 event.
However, Clarke said Watson's appointment for a second time may alter European thinking ahead of the tournament committee meeting in Abu Dhabi next month.
"I think it could well affect who is appointed," said Clarke. "A lot of people, myself included, were surprised when Tom Watson was appointed.
"It's a big statement and brilliant for the event. There are few more iconic figures in golf, he's adored in Scotland (the 2014 match is at Gleneagles) and it sends out a statement that they are very serious about winning the trophy back."
Clarke admits to mixed emotions about the possibility of captaining the side at Gleneagles.
"If they asked me to do it, it would be a difficult decision to take. I'm still only 44 and it's not that long ago that I won The Open (in 2011)," he said.
Clarke and Paul McGinley have been linked with the role, with Montgomerie describing both as "great candidates".
Montgomerie learned last week that he is to be inducted into the World Golf Hall of Fame.